Loki Season 2 Proves It's Marvel's Best Show
With Season 2, Loki gives us a terrific character study — with a cerebral time-travel twist.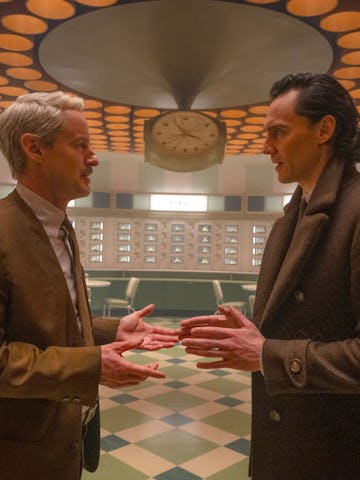 Marvel Studios
There's no question that Loki Season 1 was a high point for Marvel's Disney+ shows. Unfortunately, while the God of Mischief's solo debut was a remarkable success, the narrative threads it set in motion didn't really pay off across the Marvel Cinematic Universe.
In the year and change since the God of Mischief (Tom Hiddleston) and his variant Sylvie (Sophia di Martino) basically broke the multiverse, the MCU has explored the fallout in other projects. We've seen tangential repercussions in Spider-Man: No Way Home and Doctor Strange in the Multiverse of Madness, while Ant-Man and the Wasp: Quantumania pulled the curtain back on the franchise's next big villain, Kang the Conqueror. None of it would have been possible — or nearly as compelling — without the foundation that Loki built. So why did it feel like a blip on the MCU's radar?
The question of continuity may finally be answered in Loki Season 2, which picks up right where the finale left its smirking anti-hero. When we finally catch up with Loki, it's as if no time has passed at the Time Variance Authority — good news for those who'd like to forget about the last two years of MCU projects. But the TVA is now buckling under the weight of the multiverse, and Loki must re-team with Agent Mobius (Owen Wilson) to stop it from going under.
Each episode of Loki is dedicated to solving one problem at a time, be it Loki's new talent for time-slipping or the wrangling of a Kang variant in 1890s Chicago. The series still has a pacing issue or two, and it can be burdened by some behind-the-scenes controversies. However, one thing is certain: Marvel's best series is back, and it's better than ever.
Given the MCU's checkered track record of late, all this should be taken with a massive grain of salt. So many Marvel projects start out with promise, only to bungle it all in a clumsy, CGI-padded finale. But the first four episodes of Loki Season 2 sent to critics set such a strong foundation that it's impossible not to be optimistic. There are moments where the season comes in danger of repeating the mistakes of its past, but it sticks close to the dynamics that made the first season so much fun — and for all its efforts to expand the multiverse, it never loses sight of its momentum.
The problems plaguing the TVA this time around are pretty big ones. Loki and Mobius are essentially trying to stop an apocalypse on an exponential scale, and that forces our duo to lean on others for aid. The series becomes less of a buddy procedural and more of a workplace ensemble, providing previously underserved characters like Wunmi Mosaku's B-15 and Eugene Cordero's desk jockey Casey with some well-earned time in the spotlight. Ke Huy Quan also joins the team as Ouroboros (or O.B. for short), channeling the unflappable optimism that made his awards-season comeback such a joy to watch. Playing the TVA equivalent of your company's hapless IT guy, Quan slots in perfectly with the existing ensemble, but he also allows Loki to get even more cerebral in its exploration of the multiverse.
Despite its lofty exposition and abundance of time paradoxes, Loki remains the most accessible MCU project in a long time — not just for casual Marvel fans, but for those with very little knowledge or interest in the nature of a multiverse. The series breaks things down with jaunty, time-hopping exposition and stunningly rendered MacGuffins. But in keeping with Phase Five's most divisive trend, one MacGuffin is actually a person. Jonathan Majors is back, this time as Victor Timely, a Kang variant that's equal parts Thomas Edison and Stephen Hawking.
Loki, admittedly, gets really interesting with Timely in the mix. The introduction of a Kang variant who everyone wants to use for their own gain grounds the series' most challenging sci-fi themes in some much-needed humanity. It's a shame that it all comes in the midst of real-life controversy for Majors. While the actor was arrested on charges of domestic violence in March (and, at the time of this writing, has yet to go to trial), his many characters remain the focal point of Marvel's Multiverse Saga. He Who Remains is literally built into the bedrock of the TVA, while Timely is instrumental to its survival, so it's safe to say he's not going anywhere.
That said, Majors is just one part of Loki's ensemble, though he does have some great moments in the series. His efforts to distinguish Timely from the two Kang variants we've seen before can come off cartoonish at times, but his pathos does come out on top every time. The same could be said for so many elements in Loki. It remains an incredibly soulful series, even as it tips closer and closer to chaos.
Loki's first season felt like lightning in a bottle: raw, at times unfocused, but charged with something incredible. That it was the first of Marvel's Disney+ shows to get a series renewal was no coincidence, and it doesn't take that opportunity lightly in Season 2.
The challenge Loki presents to the multiverse is impossibly daunting — it might be the biggest threat anyone's faced this side of Thanos. But somehow, Loki finds a way to make even the biggest issues feel intimate. At the end of the day, the MCU series remains a compelling character study, not only for Loki but for everyone who's crossed his path since he dared to defy the Sacred Timeline.
Loki premieres Oct. 5 on Disney+.