Marvel Shouldn't Be Afraid of Recasting
Jonathan Majors was arrested for claims of domestic abuse. Marvel should think carefully about what could happen next.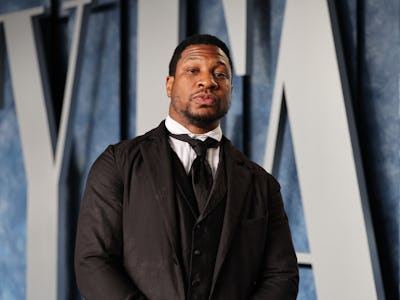 Cindy Ord/VF23/Getty Images Entertainment
After the news this weekend that actor Jonathan Majors was arrested in New York on charges of assault, Marvel Studios finds itself in an extremely precarious position moving forward. But it's a position that gives the studio the opportunity to stand forward for victims of domestic assault by doing the right thing: recasting Majors' role.
Majors, who first broke out into mainstream appeal with the back-to-back releases of The Last Black Man in San Francisco and HBO's Lovecraft Country, debuted as the supervillain Kang the Conqueror earlier this year in Ant-Man and the Wasp: Quantumania (after appearing as a different Kang variant in Loki). Currently, he's intended to return as the character later this year in Loki Season 2 and again in Avengers: The Kang Dynasty.
On Saturday, March 25, police were called to a residence in Manhattan by a woman later confirmed to be Majors' girlfriend. After verifying injuries to her head and neck, the 33-year-old actor was arrested but released from police custody later that same night. The next day, a spokesperson for Majors released a statement denying the claims and citing unreleased evidence that would allegedly exonerate him of any wrongdoing.
While the first instinct of many has been to approach the claims with skepticism, it's important to remember the sheer overwhelming odds facing women who come forward with abuse claims. Many recent trials have exposed the difficult reality of going public with domestic violence claims, as plenty of women have faced online and in-person harassment for simply speaking out against the violence that they experienced. While the reality of false accusations does exist (and it's important to note the history of Black men facing false allegations in particular), they are still too statistically unlikely to be the default assumption when claims of abuse are made.
This problem is exacerbated by the involvement of a famous celebrity, someone who has the resources and face-forward screen presence to convince the public of whatever image they want. That Majors is a well-liked actor only makes the victim's process that much harder, and the fact that his spokesperson has already said that the claims were recanted isn't necessarily proof that the violence never happened.
Shockingly (and unfortunately), this is a situation that Marvel Studios has faced before. William Hurt, the actor who played General Thunderbolt Ross in the MCU (and who passed away in 2022), was credibly accused of violent assault by Marlee Matlin and Donna Kaz, both of whom detailed their experiences in memoirs released before the #MeToo movement. Even Josh Brolin, the actor who played Thanos in both Avengers: Infinity War and Avengers: Endgame, was arrested in 2004 on charges of domestic battery made by actress Diane Lane. The nature of abuse is one intentionally hidden for the sake of plausible deniability, but in both cases, the claims were made long before either actor was cast in the franchise.
However, in the case of Jonathan Majors, the recency of the charges gives Marvel Studios an opportunity to do the right thing and cut ties with the actor. Too many major entertainment companies and franchises have sheltered abusers for the sake of profit and "avoiding controversy" at the detriment of making it even harder for victims to have their voices heard. It's a difficult decision to make, especially for a brand built on impeccable planning years in advance, but at some point, the escapism of popcorn cinema has to be relinquished in favor of protecting the victims of real, tangible violence.