Loki Season 2 Release Date, Time, Trailer, and Plot for the MCU Series
The God of Mischief is back to shake things up.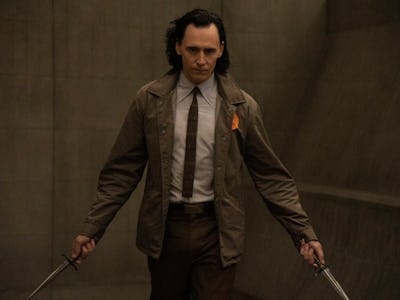 Marvel Studios
Time is running out in Loki Season 2. While that's not great for Loki himself, it is for the Marvel fans who have been waiting for his return. Loki is the first Marvel Studios show to get a proper second season, and for good reason. It did a lot of work to set up the mysterious multiverse and the franchise's newest villain, Kang, but since most of its action takes place in the time-limbo of the TVA, it's hard to integrate Loki's misadventures into Marvel's Cinematic Universe. Fortunately, the God of Mischief is finally back to shake things up, and it all begins with a new release date and time for the MCU.
When is the Loki Season 2 release date?
Loki returns with its Season 2 premiere on Thursday, October 5. It's a notable shift from the first season's Wednesday night premieres, and that's not the only change coming.
What time does Loki Season 2 premiere on Disney+?
Loki debuts its first episode at 6:00 p.m. PST, which is 9:00 p.m. EST. Not unlike the latest Disney+ series, Ahsoka, Loki is shifting into primetime this season. Previously, Disney shows would drop on the streamer around midnight PST. Ahsoka was the first to premiere in the evening, and it looks like the strategy was successful enough for Loki to emulate the model for Season 2.
Is there a trailer for Loki Season 2?
The Loki hype train left the station long ago, with its first official trailer dropping about two months before the season premiere. Check it out below.
What is the plot of Loki Season 2?
A whole lot happened in Loki's Season 1 finale, so much so that we wrote you a handy list of details you need to remember. Loki (Tom Hiddleston) and his variant, Sylvie (Sophia di Martino), found themselves at the Void at the end of time, where TVA head honcho He Who Remains (Jonathan Majors) was waiting. After a bit of haunting backstory about the Kang Wars, Sylvie slew He Who Remains and created the multiverse. That's caused a whole slew of problems moving into Season 2, especially for the TVA. Loki will be teaming up with Agent Mobius (Owen Wilson) and his new allies to restore some semblance of balance to the timeline, and they don't have much time to do it.
How many episodes will Loki Season 2 have?
Like Season 1, Loki Season 2 will run for six episodes. The series will follow a weekly release schedule — no two-episode premieres here — which means fans will enjoy a new adventure each week until November 9.
Loki Season 2 premieres Thursday, October 5 on Disney+.