New Loki Trailer Reveals a Canon-Changing Reset for the MCU
Team Loki is scattered across time and space as we approach the finale.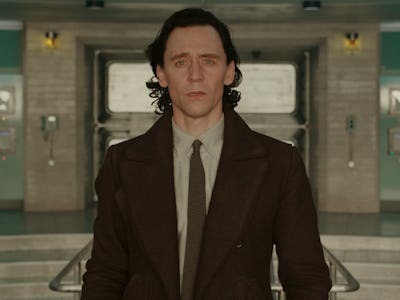 Marvel Studios
Episode 4 of Loki Season 2 ends with a cliffhanger that could have been the season finale — and according to producer Kevin Wright, that was the idea.
"What we always like to do in all of the scripts, and in all of our storytelling, is that thing you think is going to happen in Episode 6, or could happen in the finale or towards the end, what happens if we move that forward?" Wright told Marvel.com after the fourth episode aired. "It forces you to think about where we go now and what do we do. It lets it go to really surprising and unexpected places."
After four weeks of attempting to save the Time Variance Authority from certain doom, the God of Mischief (Tom Hiddleston) and his team are faced with unprecedented failure. The TVA is destroyed, leaving Loki, Mobius (Owen Wilson), Sylvie (Sophia Di Martino), and their allies awash in a flood of light. Where will they be when Loki returns for Episode 5? Wright has employed Marvel's trademark wait-and-see approach, but Loki's mid-season trailer reveals plenty about the unexpected places our heroes will find themselves in.
There are only two episodes remaining in Loki Season 2, but it seems like Episode 5 is going to hit the ground running. Loki himself might be time slipping again, but he isn't letting that stop him from tracking down what remains of his team. He finds Mobius selling sports vehicles (like his beloved jet skis!) and completely oblivious to the existence of the TVA. Even B-15 (Wunmi Mosaku) and OB (Ke Huy Quan) seem like they've been dropped right back into their unassuming lives on the Sacred Timeline. B-15 appears dressed in nurse scrubs, while OB is in full dad clothes.
Are these the same characters we've grown to love across two seasons of Loki, or their past incarnations? It's likely the destruction of the TVA simply sent them back to their original lives and wiped their memories. But it's also possible everyone was destroyed in the blast, while Loki was displaced somewhere in time. If that's the case, Loki would have to travel across timelines to find his team and convince them to help once more. It would certainly be an interesting turn of events, one that will see our God of Mischief working overtime to reunite with his found family.
But if the TVA is gone for good, is there even anything left to fight for? The stakes could be resetting for Loki's final episodes, but they could also be higher than ever. Some version of the TVA will feature in Episodes 5 and 6, according to the mid-season trailer, but it and everyone in it seem to be getting obliterated by raw temporal energy. It might fall to Loki and friends to reverse that damage. How they'll end up saving the world is one of the series' great mysteries, one that all but guarantees an eventful adventure ahead.
Loki streams Thursdays on Disney+.