Loki Executive Producer Confirms Episode 4 Twist Will Completely Change the MCU
What's looming on the horizon?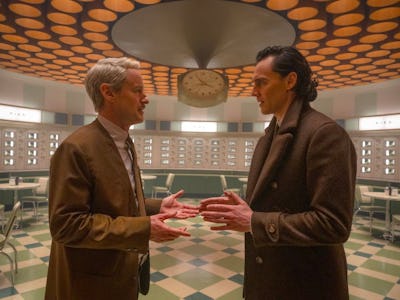 Marvel Studios
Loki is the god of mischief, and his penchant for drama hasn't stopped even as his character learns and matures. Two-thirds of the way through Loki Season 2, Episode 4 has changed everything by having the TVA's efforts to fix the temporal loom be unsuccessful. The entire loom explodes before the team's very eyes, leaving the fabric of time and the TVA itself in jeopardy. Now, new quotes from the show's executive producer reveal how this tragedy will affect the rest of Loki, and the MCU as a whole.
Kevin Wright told Marvel.com this explosion will cause huge issues for the final two episodes. "One, It'll be super shocking that it happened as early as it does," he said. "And two, it allows the filmmakers to kind of flex a different part of their brain which goes, OK, I thought that was going to happen later. What happens after that? What do we do now if we've got two episodes going forward? It forces you to think about where we go now and what do we do. It lets it go to really surprising and unexpected places."
But just what are those surprising and unexpected places? Now that the TVA is completely gone, will its agents have their memories restored? And what will happen to the countless variants scattered throughout the galaxy? Wright didn't offer any specific clues, but he hyped up the two episodes left in the season.
"I think that's the beauty of Episodes 5 and 6," Wright said. "If people liked Episode 4, I genuinely think 5 and 6 are maybe the two best episodes of this series. They're beautiful and they're profound. They're deeply moving. And we only get to go there because of that story acceleration."
The Temporal Loom is gone, and it's looking like the TVA has gone with it. Wright makes it sound like the TVA's fate is definitive, which is a big deal; Loki has essentially blown up the premise of its own show. But in the grand scheme of Loki and the MCU as a whole, it's a necessary step to dive deeper into the characters we know — and the ever-looming threat of Kang the Conqueror.
Loki Season 2 is streaming on Disney+.