Loki Season 3 Probably Won't Happen — But There's Still Good News
The Marvel series was the first to get a second season, but don't hold your breath for a third.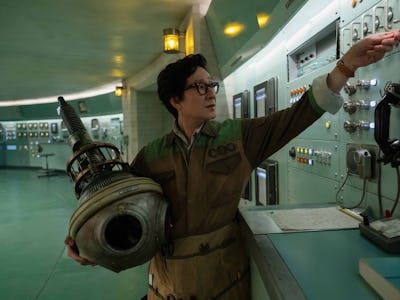 Marvel Studios
After nearly two years of non-stop output, Marvel is finally putting the breaks on its TV multiverse. Since 2021, the studio has released a whopping 10 Disney+ series, but few have managed to translate prior cinematic success to the small screen. Most of Marvel's steaming efforts feel like chopped-up, drawn-out movies, and after a string of duds, Marvel is finally starting to rethink its strategy, modeling future projects after its episodic, multi-season success story Loki. That means any upcoming series could get a second or third season... but will this new practice extend to the show that started it all?
Loki's second season is currently streaming on Disney+, a first for Marvel's Cinematic Universe but a welcome surprise considering Season 1's cliffhanger ending. According to executive producer Kevin Wright, a two-season story was always in the cards. "I think we always conceived of Seasons 1 and 2 as a whole," Wright told Deadline. The seasons are "two chapters of the same book," but the producer admits there are plenty of other stories that could be told in the Loki universe. "I think they would be new books, if that's not too coy."
Continuing the book metaphor in a conversation with Collider, Wright confirmed Season 2 will "close the book" that Season 1 opened up. It seems like Loki's main storyline will end here, and hopefully without further suspense. "We don't want to constantly leave people with drastic cliffhangers for our finales," Wright said.
Wright's comments might be disappointing for those looking for more adventures in the TVA, but Loki doesn't actually seem like the end. The series opened the door to an entirely new corner of the MCU, and those threads could continue in other projects.
"There are many other books on the shelf for this character and for this world," Wright said. That implies potential spin-offs for characters we've met in the TVA, and maybe even an origin story for the TVA itself. Any of the variants introduced in Loki could also merit a spin-off; depending on the way Season 2 ends, fans will likely want more of Sylvie (Sophia Di Martino) in the future.
Though Loki feels more like proper television than any of the MCU's other series, it's still connected to a larger multiverse. No one's ever truly gone, and no chapter is ever truly finished, which is good for anyone hoping for more timey-wimey hijinks down the timeline.
Loki Season 2 is streaming on Disney+.