Loki Season 2 Exposes the Biggest Problem With Marvel TV
Loki is better off without Kang.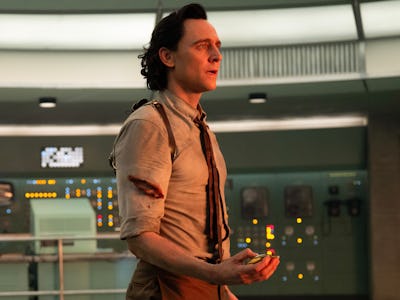 Marvel Studios
The specter of Kang the Conqueror, aka He Who Remains (Jonathan Majors), looms large over the Loki Season 2 premiere. Although he's never physically seen throughout the episode, statues of him are repeatedly featured and an audio recording of a conversation between him and Ravonna Renslayer (Gugu Mbatha-Raw) is briefly played. In one chilling scene, Loki (Tom Hiddleston) even reveals that He Who Remains' creation of the Time Variance Authority was purposefully covered up with images of the secretly fake Time-Keepers.
Combine all of these moments with the glimpses of Victor Timely, one of Kang's many variants, featured throughout the early Loki Season 2 trailers, and it seems safe to say that Majors' Marvel Cinematic Universe villain is going to play a major role in the Disney+ series' newest episodes. As inevitable as that outcome seems, though, it's worth noting that Loki Season 2 would likely be better off without Kang the Conqueror. Indeed, if the Loki Season 1 finale proved anything, it's that the Disney+ series' weakest element might just be the MCU itself.
When it aired for the first time in July 2021, the Loki Season 1 finale felt like an unexpectedly massive MCU event. The episode's introduction of He Who Remains and foreshadowing of Kang the Conqueror's violent quest for multiversal domination seemed to signal the rapid start of the MCU's new, Infinity Saga-level arc. Over two years later, however, the impact of Loki's Season 1 finale has been greatly diminished by the fact that the events of it haven't really had much of a tangible effect on the MCU at large.
Marvel has simply failed to justify or follow through on the dread-inducing urgency of the Loki Season 1 finale's closing moments. As a result, while many still agree that Loki Season 1 is the best Disney+ title that Marvel has released, its reputation has taken a slight hit in the two years since it concluded. Now, thanks to the increasingly rocky franchise storytelling of the MCU, it seems like Loki Season 2 is already in danger of suffering a similar fate. That'd be an unfortunate outcome, too, because Loki doesn't actually need Kang or the Multiverse Saga to be successful. On the contrary, Loki remains one of the most purely enjoyable titles that Marvel has released over the past five years.
The series features one of the MCU's strongest ensemble casts and a setting that is as intriguing and seemingly limitless as it is aesthetically pleasing and unique. The show could very well sustain itself solely on both the charisma of its lead stars — especially Owen Wilson, Tom Hiddleston, and Ke Huy Quan — and its fun, wacky time-travel adventures. With its propulsive, time-slipping plot and numerous, genuinely funny moments between O.B. (Quan), Mobius (Wilson), and Hiddleston's God of Mischief, the Loki Season 2 premiere proves that.
Its Season 1 finale has forced Loki to continue exploring the impact of several major moments, but it'd be in the show's best interest to keep its focus on Victor Timely, Kang, and He Who Remains as limited as possible. The series boasts one of the strongest foundations of any Disney+ title of recent memory, but the more that Loki tries to make itself seem like a narratively integral addition to the MCU, the more it hinges its success on the franchise's actual interconnected storytelling. A few years ago, that might not have been much of a risk, but it is now.
Unlike a lot of other MCU titles, Loki doesn't need any greater narrative importance to seem worthwhile, either. The series is so genuinely engaging and fun that it can function as a standalone time-travel adventure show if it wants. In fact, it seems safe to say that Loki Season 2 will be better off if it tries to be just that — and nothing more.
New episodes of Loki Season 2 premiere Thursday nights on Disney+.