Loki Season 2 Succeeds Where Secret Invasion Failed
Loki understands one fundamental truth about the MCU.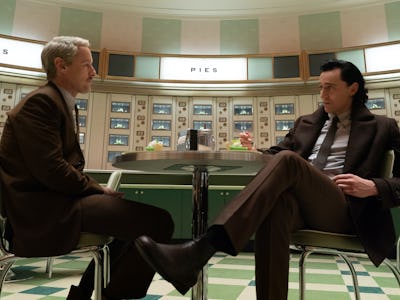 Marvel Studios
So far, Loki Season 2 has been welcomed with open arms by both die-hard Marvel Cinematic Universe fans and casual viewers alike. The season hasn't gotten off to a perfect start by any means, but it's not hard to see why the newest episodes of Loki have received such positive responses. The Disney+ show not only looks better than it ever has before, but it has only continued to double down on all the things about its debut season that made it so great.
That's particularly clear in Episode 2 of Loki Season 2, titled "Breaking Brad," which suffers from a few plotting problems that make the actual point of the episode a bit unclear at times. Despite some of its more apparent flaws, though, "Breaking Bad" proves that Loki still understands something about the MCU that recent misfires like Secret Invasion and Ant-Man and the Wasp: Quantumania don't.
Spoilers ahead for Loki Season 2 Episode 2!
Loki Season 2's latest installment is fairly long compared to most of the episodes of TV that Marvel has produced throughout its Disney+ era. The episode clocks in at 52 minutes (counting credits), and you can feel the extra space provided by its extra minutes. There's a shagginess to "Breaking Brad" that brings its pace to a screeching halt at certain points and allows some scenes to stretch on longer than they should. Many of the season's exposition dumps have been so jargon-heavy and breakneck, meanwhile, that it's been difficult to maintain a real grasp on what's happening at all times and why.
And yet, Loki is still just as much fun to watch as it's ever been. The show's directors have brought a real, infectious visual energy to its first few Season 2 chapters and its returning cast members are just as charismatic, funny, and endearing as they were in Loki's initial six episodes. The series has, in turn, relied more and more on the talents of its actors. "Breaking Brad," for instance, features not just one prolonged scene in which Mobius (Owen Wilson) and Loki (Tom Hiddleston) bond over a few slices of key lime pie, but another, joke-filled conversation over a shared McDonald's meal between Mobius and X-5 (Rafael Casal).
These two scenes shouldn't work as well as they do, but Mobius and Loki are both such well-defined, well-performed characters that spending a little extra time with them isn't something most viewers will few reticent about doing. The more that Loki Season 2 continues to flesh out the Time Variance Authority and the relationships between its co-workers, too, the more appealing it becomes to stay there. Suffice it to say, Loki Season 2 understands that the MCU's characters have always been the best thing about it.
One of the reasons why Secret Invasion was such a massive letdown was that the show was so obsessed with its underbaked Skrull plot that it barely found time for scenes between actors like Ben Mendelsohn, Samuel L. Jackson, and Olivia Colman. It made the mistake of thinking that its eponymous invasion took priority over its characters and the actors who play them, but that's never been the case with the MCU.
Even when the franchise's overarching plot was firing on all cylinders around the time of Avengers: Infinity War and Endgame, it was viewers' connections to characters like Steve Rogers and Tony Stark that made those films' biggest twists and reveals work so well. The MCU has never been great because of its plotting, but because of how well it has drawn its various heroes and villains. That's been true since the early days of the franchise, and it's why scenes like the Avengers Tower party in 2015's Avengers: Age of Ultron are still remembered so fondly.
Loki Season 2 understands not only the strength of its characters and actors but also how appealing it is to spend a few minutes here and there just hanging out with them. It hasn't forgotten what made the MCU great for so many years, which is why it itself is still great.
New episodes of Loki Season 2 premiere Thursday nights on Disney+.