Loki Season 2 Is a Historic Marvel First — For a Controversial Reason
The Disney+ series boasts a historic first for the MCU. Will it work in Marvel's favor?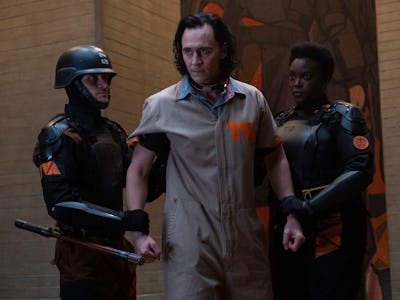 Marvel Studios
Marvel's only recently started expanding their cinematic universe to the small screen, but one of its flagship shows, Loki, is already making history. It's one of the first to get greenlit for a second season on Disney+, ahead of animated anthology What If...? — but that's not the only milestone under its belt. According to producer Kevin Wright, Loki Season 2 might be the first MCU project to wrap production without the need for reshoots.
"This is maybe the first Marvel movie or show with zero additional photography," Wright told Uproxx ahead of Loki's return. Marvel productions, like any blockbuster, often need reshoots to tighten action sequences or streamline continuity. Given Loki's importance to the MCU, however, it seems like the series had plenty of freedom to get its story right before filming. "The show that is on-screen, that will be going out, is the show that we wanted to make."
That extends to the return of Jonathan Majors. He appears in the series as Victor Timely, a Kang variant that becomes a valuable asset in the quest to save the TVA. As Marvel is still building towards Avengers: Kang Dynasty, it's not too much of a surprise to see him back so soon.
Unfortunately, it comes in tandem with some alarming controversy: Majors was charged with domestic assault in March, shortly after appearing in Ant-Man and the Wasp: Quantumania. Additional reports of abuse have surfaced in the months since, leading many to wonder whether Marvel Studios is still committed to Majors' role in the MCU.
When Loki Season 2 dropped its first trailer, Majors was there as Timely, albeit briefly. The series' marketing has been careful not to feature the character too prominently, if at all. As Majors' case is still up in the air (his trial date was pushed back to October), it was hard to say whether his role would be reduced, recast, or reshot. But Wright's comments have cleared the air, at least where Loki is concerned.
Timely was always "a big part" of the story as written, according to the producer. As Majors' arrest occurred long after the season had been shot, there was apparently no discussion of reshoots or recasting. "There's nothing really to act on at this moment," Wright continued. "We don't know what that will all be, [but] I think we feel strongly about what the story is, what the performances are. And we're happy with it, and it's what the show is. And what happened afterwards, none of us really know. And we'll see."
In a roundabout way, Wright's statement echoes Marvel's attitude towards the controversy. The studio itself hasn't made any statement outright, and they're likely waiting for a definitive ruling before doing so. As Majors' trial continues, though, the studio will eventually have to make its intentions clear. Loki might be the first MCU project to avoid reshoots, but that may come back to bite the series in the future.
Loki Season 2 returns October 5 on Disney+.