Loki Season 2 Episode 2 Release Date, Time, Trailer, and Plot
The Marvel series is gearing up for a long-awaited reunion.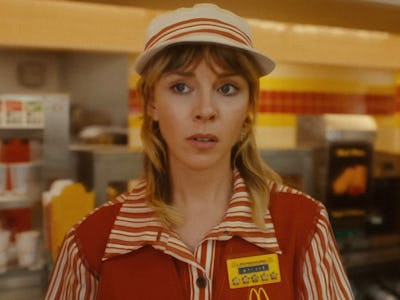 Marvel Studios
From the very beginning, it was clear that Loki was unlike any Marvel series that had come before. It unleashed the multiverse and kickstarted Marvel's latest saga, and though the projects that followed are only just settling into this new playground, Loki Season 2 is back to make things just a bit crazier.
Loki Season 2 wasted no time throwing us in the deep end, setting the tone for a new six-episode adventure. The multiverse has become a tangled web of chaos by the time Loki (Tom Hiddleston) returns. He's joined by several familiar faces, including Agent Mobius (Owen Wilson) and Hunter B-15 (Wunmi Mosaku), but one of Loki's biggest players is still missing from the main narrative.
While we caught a glimpse of Sylvie (Sophia Di Martino) at the end of Loki's Season 2 premiere, the God of Mischief has yet to catch up with her in earnest. That may change in Episode 2, as Loki needs all the help he can get to save the TVA.
What is the Loki Season 2 Episode 2 release date?
New episodes of Loki Season 2 air weekly on Thursday. Episode 2 hits Disney+ on Thursday, October 12.
What time does Loki Episode 2 premiere on Disney+?
Loki Episode 2 will be available to stream at 6:00 p.m. PST, or 9:00 p.m. EST. Disney+ has been trying a new release window for its fall shows; Loki is the second series (after Ahsoka) to shift from a midnight PST release to a prime time slot.
Is there a trailer for Loki Episode 2?
Disney+ shows don't typically release episode-specific trailers, but Loki has been enjoying a huge promotional push. That means Marvel Entertainment has dropped quite a few trailers, the latest of which is below.
What will happen in Loki Episode 2?
The Loki Season 2 premiere teased a massive conflict, but Episode 1 was also pretty self-contained. Loki and Mobius were focused on fixing Loki's time-skipping problem, but with that issue resolved, the duo can pivot to the second most pressing threat: saving the TVA from imminent destruction.
Episode 1 introduced an interesting time paradox between Loki and his variant, Sylvie (Sophia di Martino). With the multiverse in such disarray, it's safe to assume time will play a big role in the upcoming season. The Season 2 premiere also teased a more significant return for Sylvie in its post-credits scene. She finds herself in a branched timeline in 1982, at a McDonald's, of all places. She seems to have found a new calling, but based on what we've seen in Loki trailers, her blissful new life in food service might not last very long.
How many episodes will Loki Season 2 have?
Loki Season 2 will run for six episodes. With Episode 2, the series will be a third complete, with new episodes continuing to premiere each Thursday until the season finale on November 9.
Loki Season 2 streams on Disney+.