Daredevil: Born Again Brings Back One Fan-Favorite — At The Cost of Two Others
The Punisher is joining Daredevil in the MCU. But who of Daredevil's friends will not?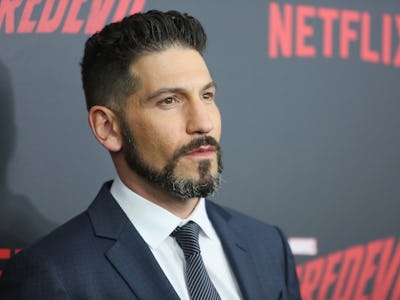 Monica Schipper/FilmMagic/Getty Images
When Daredevil returns to the Marvel Cinematic Universe, he's bringing an old friend. Sadly, two more aren't joining him on the other side.
In a report by Aaron Crouch of The Hollywood Reporter published on Tuesday, Jon Bernthal will return as Frank Castle/The Punisher in the upcoming Marvel series Daredevil: Born Again. Bernthal joins Charlie Cox and Vincent D'Onofrio, who are also returning from the original incarnation on Netflix. The series will premiere on Disney+ in 2024.
While Daredevil will have the Punisher as his uneasy ally in a never-ending fight against crime, two more key characters from Daredevil will not return. In the same report by THR, actors Deborah Ann Woll and Elden Henson are not invited to reprise their roles as Karen Page and Foggy Nelson, respectively. This is despite the two characters being central to Daredevil's story, acting as his primary support system and business partners.
Details about Daredevil: Born Again remain under wraps, only that the show will have a whopping 18 episodes, almost double the usual six-to-nine episodes that Marvel shows on Disney+ run per season (and surpassing even Daredevil's original span of 13 episodes a season on Netflix). Born Again will also loosely continue the story of the Netflix series, though specifics on how are unclear.
In its original form on Netflix, Daredevil ran for three seasons. Bernthal first played his psychologically traumatized Frank Castle — who becomes the gun-toting vigilante "The Punisher" after the murder of his family — in Daredevil's second season, before leading his own spinoff The Punisher. It had two seasons.
Although the Marvel/Netflix universe of TV shows had seemingly vanished after Marvel's agreement with Netflix expired, both Cox and D'Onofrio were slowly brought into the fold of the MCU beginning in late 2021. Cox made his first official MCU appearance in Spider-Man: No Way Home, and returned a few months later as a guest character in the second half of She-Hulk: Attorney at Law on Disney+.
Vincent D'Onofrio made a surprise appearance as the secret villain of the Disney+ series Hawkeye, reprising his acclaimed Daredevil role of Wilson Fisk (aka Kingpin). His fate was left ambiguous, though his upcoming appearance in Born Again means he's survived whatever happened offscreen in Hawkeye.
While Daredevil and the Punisher are making an epic return to the MCU, the fates of the other "Defenders" — Luke Cage (Mike Colter), Iron Fist (Finn Jones), and Jessica Jones (Krysten Ritter) — are still up the air. While all three have made various statements to the press about a possible return, none have been confirmed.
Daredevil: Born Again will premiere on Disney+ in 2024.