Ahsoka Episode 7 Release Date, Time, Trailer, and Plot for the Star Wars Show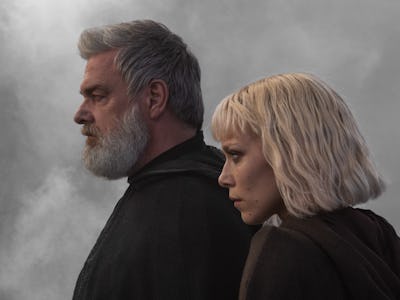 Lucasfilm
While it may be Ahsoka Tano's name on the marquee, Ahsoka has been feeling more and more like an ensemble piece. That was especially true of Episode 6, which borrowed one of Lucasfilm's weirdest TV trends and completely pivoted away from Ahsoka (Rosario Dawson). Granted, it was still a solid episode that delivered on the series' most anticipated reveals. But as Ahsoka moves towards its season finale — now only a little over a week away — it's running out of time to wrap up its story in a way fans may be hoping for.
All eyes are on Ahsoka, at least if its Nielsen numbers are any indication, and the pressure is on for its final episodes. Will the series stick the landing, or join Obi-Wan and The Book of Boba Fett as the latest Star Wars show that could've easily been a movie?
What is the Ahsoka Episode 7 release date?
Ahsoka streams every Tuesday night on Disney+. Episode 7 premieres on September 26.
What time does Ahsoka Episode 7 premiere?
Episode 7 will be available to stream at 9:00 p.m. EST, which is 6:00 p.m. PST.
Does Ahsoka Episode 7 have a trailer?
Lucasfilm doesn't typically release individual trailers for each episode of its series, so Ahsoka Episode 7 doesn't have a specific teaser. However, a new mid-season trailer did drop ahead of Episode 6.
What's the plot of Ahsoka Episode 7?
The last episode of Ahsoka didn't feature much of the title character. Instead, we followed Sabine on the final leg of her quest to find Ezra Bridger (Eman Esfandi). Episode 6 was a big moment for the series, as it introduced both Ezra and Grand Admiral Thrawn to live-action. While Sabine finally managed to reunite with her long-lost friend, they're still stranded on the planet Peridea with Thrawn, his stormtrooper army, and a trio of hostile Nightsisters. It won't be easy getting back to their native galaxy, but Ahsoka and Huyang (David Tennant) are on their way to Peridea too, so they won't be alone if it comes down to a fight against Thrawn.
How many episodes of Ahsoka are left?
There are eight episodes total in Ahsoka's season. For those of you who really hate doing math, that means there will only be one episode left after Episode 7 is in the books. The series took its sweet time bringing Thrawn into the fold, but that doesn't mean Ahsoka has been light on the action. Now, it's likely proceedings are about to get kicked into high gear.
Ahsoka is streaming on Disney+.