Ahsoka Episode 6 Release Date, Time, Trailer, and Plot for the Star Wars Show
The series is finally jumping into overdrive.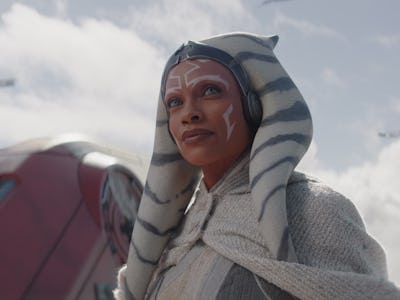 Lucasfilm
It's been exactly a week since Ahsoka brought back the most important character in Star Wars history, Anakin Skywalker (Hayden Christensen). His reunion with Ahsoka Tano (Rosario Dawson) was one of the series' most thrilling moments, and a necessary one given Ahsoka's relationship to past Star Wars stories. But Ahsoka also has one eye on the future, as it's one of a handful of new shows laying the groundwork for showrunner Dave Filoni's big Avengers-esque feature film.
With only three episodes left, you'd be forgiven for wondering just how Ahsoka is going to bring its big villain, Grand Admiral Thrawn (Lars Mikkelsen), into the picture. Fortunately, Episode 5 laid the groundwork for his long-awaited return, which means Episode 6 should be the biggest installment yet.
What is the Ahsoka episode 6 release date?
Episode 6 will hit Disney+ on Tuesday, September 19. All episodes of Ahsoka drop on Tuesdays, which is a big change from the Wednesday morning premier strategy that other Star Wars shows used.
What time does Ahsoka episode 6 premiere?
Ahsoka Episode 6 will be available to stream at 9:00 p.m. EST, which is 6:00 p.m. PST.
Is there a trailer for Ahsoka episode 6?
Ahsoka isn't releasing individual episode trailers, but Lucasfilm has dropped some new promos for the back half of the series. Check out the latest teaser below.
What is the plot of Ahsoka episode 6?
Ahsoka has largely been about the return of Grand Admiral Thrawn. Though Episode 5 diverged from that path quite a bit, it eventually put our heroes back on track. After Ahsoka's short-lived reunion with Anakin, she caught up with Huyang (David Tennant) and Hera Syndulla (Mary Elizabeth Winstead). With the help of the purrgil — a species of space whale that can enter hyperspace — Ahsoka and Huyang pursued Morgan Elsbeth (Diana Lee Inosanto) into a neighboring galaxy, while Hera stayed behind to deal with the concerns of the New Republic.
Since Morgan is determined to rescue Thrawn from his exile, Episode 6 could finally introduce the tactical mastermind to live-action. The new episode may also reunite Ahsoka and Sabine (Natasha Liu Bordizzo) with their long-lost friend Ezra Bridger (Eman Esfandi). Put it all together and Episode 6 could be a big one, especially for Rebels fans.
How many episodes of Ahsoka are left?
The first (and currently, only) season of Ahsoka has eight episodes. The series is well past its halfway mark, and with only three episodes left to wrap up its conflict, it's cutting things close. The final episodes of Ahsoka will have to introduce Thrawn to the galaxy and bring a satisfying end to Ahsoka's journey, but hopefully it can stick the landing.
Ahsoka is streaming on Disney+.