Ahsoka's Nielsen Ratings Prove Disney's Star Wars Strategy Is Paying Off
A new normal in streaming could finally be arriving.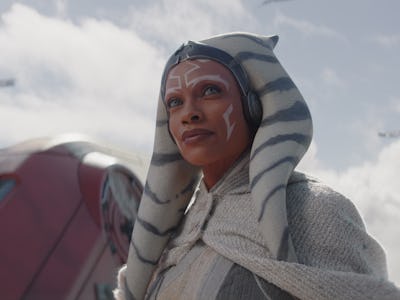 Lucasfilm
Ahsoka has always had a mind of her own. She was Anakin's padawan even when fans insisted that wasn't possible, she walked away from the Jedi when she realized they weren't the epitome of justice, and she made the jump from animation to live-action when that seemed like an uncrossable barrier.
Now, Ahsoka is changing the game in another way. Her Mandalorian spinoff show mixed up Disney+'s release schedule by dropping episodes at primetime instead of midnight, and it seems like the strategy is paying off. If so, the way we watch streaming TV could change forever.
Ahsoka managed to fight to fifth place on Nielsen's streaming viewership chart, and took the silver medal on the list of streaming originals, behind only Netflix's Who Is Erin Carter? That's good for Ahsoka, but it's also a testament to Disney+'s new release strategy.
By moving up its release, Ahsoka went from an overnight drop fans would either need to stay up to watch or catch the next day after work or school while studiously avoiding spoilers, to primetime appointment viewing. Ahsoka isn't just another show to catch up on when you get the chance; it's a set viewing experience every Tuesday night.
The strategy appears to be working, as Disney+ is already using it elsewhere. The second season of Marvel's Loki was set to premiere the Friday after Ahsoka's finale, but is now borrowing Ahsoka's release schedule and putting out new episodes on Thursday evenings.
Before Ahsoka, streaming releases were almost always timed to appear overnight, but TV power dynamics are shifting, and these platforms can compete with broadcast TV. Maybe, in the coming months, we'll be watching Netflix originals the same way we all watched new episodes of Game of Thrones and Succession. It certainly beats having to stay up until midnight.
Ahsoka is streaming on Disney+.