Ahsoka is Failing Its Fan-Favorite Star Wars Hero
Why doesn't Rosario Dawson's former Jedi feel like the actual focus of her own show?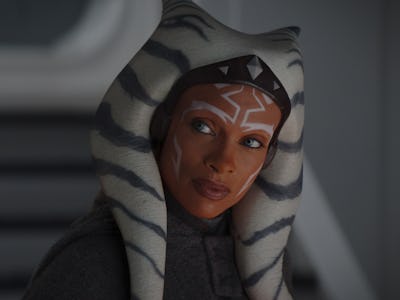 Lucasfilm
Ahsoka is about many things — the potential return of Grand Admiral Thrawn (Lars Mikkelsen), the shortsightedness of the New Republic, and Sabine Wren's (Natasha Liu Bordizzo) Jedi training — but is it actually about Ahsoka Tano (Rosario Dawson)? So far, the answer to that question seems, at best, to be "maybe." Across its first three episodes, the Dave Filoni-created series has introduced so many characters and pieces of lore that it's unclear exactly how its plot connects back to its eponymous former Jedi.
To be clear: The canonical importance of, say, Grand Admiral Thrawn's return is obvious. The same is true for the potential rescue of Ezra Bridger (Eman Esfandi). However, when it comes to its lead's own, personal journey, Ahsoka has had little to offer outside of her master-apprentice relationship with Sabine, which hasn't exactly been set up to succeed.
That's especially true if it really does end up being the only storyline in Ahsoka that actually results in its central hero changing in any way.
When Ahsoka Tano was first introduced, she was met with more outright skepticism from Star Wars fans than she deserved. Despite that fact, she slowly but surely worked her way into viewers' hearts over the course of The Clone Wars' initial five-season run. It was for that reason that there was so much excitement surrounding her return in Star Wars Rebels, and the same goes for her subsequent, live-action rebirth in The Mandalorian Season 2.
Ahsoka's brief appearance in that Disney+ series' sophomore season planted the seeds for the Thrawn plotline that is now at the center of Lucasfilm's plans for the Star Wars franchise. As exciting as it is to see Filoni and co. actually pick up where Star Wars Rebels left off, though, it's hard not to feel like Ahsoka is doing so at the expense of its eponymous character. Right now, Ahsoka herself feels weirdly stranded in the Disney+ series that is supposed to be about her.
Even the show's attempts to push her into a new mentorship role with Sabine have felt disappointingly forced and unearned. That's not only because Ahsoka and Sabine's relationship in the series depends entirely on events that have taken place offscreen, but it's also worth noting that the two characters have never had that strong of a bond. In fact, Ahsoka is essentially treated like a special guest star in Rebels, which only makes Filoni and Lucasfilm's decision to turn the search for Ezra into such a huge part of her post-Return of the Jedi story even stranger.
All of this is to say that Ahsoka's current Star Wars journey feels increasingly dictated by studio and canonical demands rather than her own needs. Unlike Andor and even Obi-Wan Kenobi, both of which manage to keep their stories firmly rooted in their heroes' emotional and psychological journeys, Ahsoka hasn't established any clear or compelling emotional connection between its plot and its beloved heroine.
That's disappointing for a number of reasons, but none more noteworthy than the fact that Ahsoka is a character who deserves to lead her own solo, live-action Star Wars adventure. If her Disney+ series really does end up being nothing more than a prologue for Filoni's New Republic crossover film, longtime fans of the character will likely feel a little bit cheated — and for good reason.
New episodes of Ahsoka premiere Tuesday nights on Disney+.