Ahsoka Episode 4 Easter Egg Reveals a Tragic Star Wars Romance
There's more than one ghost in Episode 4.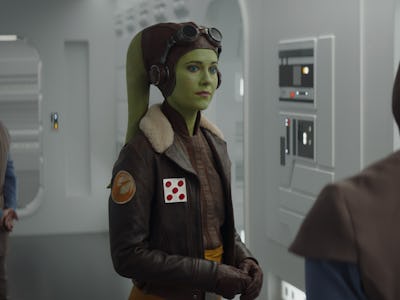 Lucasfilm
Given that Ahsoka is a direct continuation of Rebels, it's safe to expect the latest series to reference the animated show whenever possible. And it's not like all these nods to Rebels aren't warranted: while Ahsoka Tano (Rosario Dawson) only played a minor role in the animated show, her supporting cast in live-action were the heroes of that story. Sabine Wren's (Natasha Liu Bordizzo) tenure as a Mandalorian warrior will eventually come into play, and references to Hera Syndulla's (Mary Elizabeth Winstead) lover, Kanan Jarrus, are all but inevitable, especially now that their son Jacen (Evan Whitten) is old enough to participate in Hera's adventures.
Episode 4 of Ahsoka sees Hera taking Jacen along for what could be a particularly risky mission. She and a handful of New Republic pilots are headed to the planet Seatos, which has become a temporary base of operations for Morgan Elsbeth (Diana Lee Inosanto) and the Eye of Sion, the massive hyperspace ring that will allow her to rescue Thrawn (Lars Mikkelsen) from a distant galaxy. The hunt for the Imperial Grand Admiral is driving the first half of Ahsoka, and "Fallen Jedi" brings Hera, Ahsoka, and Sabine closer to their goal.
Unfortunately, things don't go to plan, but that's not the only surprise awaiting fans in Ahsoka's latest installment. Spoilers ahead.
Hera and Jacen share a heartwarming moment before the pair set out for Seatos, but a closer look at the scene reveals a heartbreaking nod to Hera's past. Eagle-eyed fans spotted a photo of Kanan Jarrus in the cockpit of Hera's ship. This may be the first physical photo we've seen of someone in the Star Wars galaxy, as pictures are usually stored holographically. But it could also be considered our first real look at Kanan in live-action — and possibly the last.
Kanan is the one member of the Rebels squad that definitely won't be appearing in Ahsoka, at least in the main plot. In Rebels Season 4, Kanan sacrificed himself to save his crew from the Empire's clutches, allowing them to continue the fight and restore peace to the galaxy. Hera gave birth to Jacen after Kanan's demise, which means he's grown up without a father. The photo's existence does imply that Lucasfilm has settled on what Kanan would look like in live-action, and might have even selected an actor for him, which doesn't rule out a quick flashback appereance. But he's a bit too deceased to ride in and save the day.
That said, Hera's still keeping Kanan's memory alive, and not just by keeping a photo of him close. Kanan was one of the few Jedi who survived the Purge at the end of the Clone Wars, and alhough he grappled with that legacy for years, he eventually resumed his training, became a Jedi Knight, and trained his own apprentice, Ezra Bridger. While he never got the chance to train Jacen, his son may be following in his footsteps soon enough.
Jacen has aspirations towards knighthood: in Episode 2, he spoke to Hera about becoming a Jedi one day. While Hera probably has plenty of reservations about sending her son on such a dangerous path, it's sweet to see Jacen trying to emulate the dad he never knew. He's even fashioned his look after Kanan, another blink-and-you'll-miss-it reference to Rebels that's sure to tug on some heartstrings.
Ahsoka is currently streaming on Disney+.