The 20 Most Popular TV Shows in the World Right Now
Think Netflix's lack of statistics makes it impossible to measure? Think again.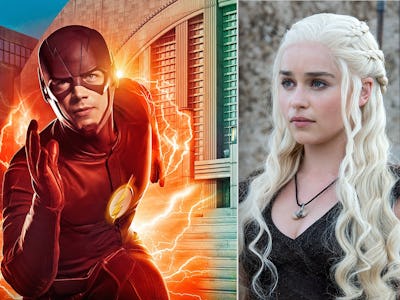 The CW/ HBO
Conventional wisdom would say that Game of Thrones is the world's most popular show, while Netflix shows like Marvel's Iron Fist or 13 Reasons Why are impossible to compare because no one knows how stuff does on the streaming platform. But according to new information from data company Parrot Analytics, both assumptions are untrue. The most buzzed-about show in the world is actually The Walking Dead, while 13 Reasons Why is easy to pin as the seventh most popular.
Parrot Analytics doesn't only use ratings to measure a show's global impact — which is how it's able to include Netflix original series. The service also takes into account data like social media buzz and sharing to measure overall global demand. The company has exclusively shared its findings with Inverse for the top 20 hottest shows between March 1 and April 30, 2017. According to Parrot, a show's "average demand expression" is "the desire, engagement, and consumption" of a show.
1. The Walking Dead
Game of Thrones fans might be perpetually theorizing about Jon Snow's parents, but the Walking Dead chatter around Negan enabled the AMC zombie show to overtake the fantasy giant. According to Parrot Analytics, The Walking Dead Season 7 reigns supreme with an average daily demand expression of 7,084,524.
2. Game of Thrones
Now that the fantasy epic has overtaken George R. R. Martin's source material novels, the show's social media buzz is louder than ever as fans try to guess where the story might go. With the news that up to five spin-offs are in development at HBO, its global demand is not about to fade anytime soon. According to Parrot, the current daily demand expression for Game of Thrones is 4,981,707. Expect that to rise when the show comes back this summer.
3. The Flash
Speculation over the secret identity of the mysterious Savitar enabled the speediest superhero to coast to the top in its third season. The CW drama has an average daily demand expression of 4,392,700.
4. Pretty Little Liars
The mixture of clique-intrigue and pulp thriller in the Freeform series proved to be an addicting combination for social media discussion. In its seventh and final season, Pretty Little Liars is generating an average daily demand expression of 4,257,123.
5. The Big Bang Theory
The notoriously long-running quirky sitcom is showing no signs of slowing down, as CBS has renewed for two more seasons after its tenth. Season 10 has an average demand expression of 3,549,137.
6. Prison Break
After taking an eight-year hiatus between its fourth and fifth seasons, the FOX prison drama has no shortage of buzz. For its final limited season, the curiosity around Michael's not-so-permanent death is enough to generate an average daily demand expression of 3,276,581.
7. 13 Reasons Why
The Netflix original drama about teen suicide sparked controversy, with many reaction pieces discussing whether the series approaches the topic with the appropriate level of gravity. Nevertheless, the show proved to be a frequent conversation starter, with an average daily demand expression of 3,274,221.
8. Marvel's Iron Fist
Marvel's Iron Fist might have received lower critical acclaim than its cousin shows Jessica Jones, Luke Cage, and Daredevil, but that didn't impact how many viewers tuned in to watch and talk about it. According to Parrot, its average daily demand expression clocks in at 3,029,274.
9. The Vampire Diaries
The eighth and final season of the supernatural CW drama closed the door on Mystic Falls, but fans still turned up to social media to speculate over whether Matt would finally catch a break, which vampires would ultimately turn human, and whether Alaric would get a happy ending. Its daily demand expression is 2,955,865.
10. Sherlock
The modernized BBC take on Sir Arthur Conan Doyle's has generated a mixed reception from fans and critics alike the longer it has proceeded, but that hasn't impacted the way people watch and discuss it. Its average daily demand expression is 2,605,802.
11. Suits
The long-running USA show is curiously the only legal drama to make it into the top twenty most popular shows — which might be because it's basically an escapist fantasy show wearing the guise of a legal drama. As sleek and sharp as its namesake, Suits has a daily average demand expression of 2,594,915.
12. Naruto: Shippuden
While live-action shows dominate the top twenty list, Naruto: Shippuden is here to rep anime, too. It follows ninja teen Naruto Uzumaki and his friends a short time after Part I of Masashi Kishimoto's popular manga series. Its average daily demand expression is 2,451,309.
13. Arrow
Oliver Queen has come a long way on the superhero show based on DC's Green Arrow, progressing from playboy to mayor to mentor for young heroes. All the while, he's spawned several spin-off shows. The CW show currently has an average daily demand expression of 2,438,865.
14. Marvel's Agents of S.H.I.E.L.D.
Bureaucracy in the superhero world is just as tumultuous as vigilanteism. Through the four seasons of the ABC show, the organization S.H.I.E.L.D. has dismantled and re-formed, all while contending with Hydra and Inhumans. Its fourth season has an average daily demand expression of 2,354,337.
15. The Originals
The Vampire Diaries spin-off is only a handful of slots behind its original, which proves that New Orleans and the Mikaelson family have nearly the same level of interest as Mystic Falls and the Salvatores. The supernatural CW show has an average daily demand expression of 2,328,920.
16. Homeland
The fact that its sixth season premiered in January and featured an American presidential election only helped the Showtime spy thriller's provocative buzz. It has an average daily demand expression of 2,155,808.
17. DC's Legends of Tomorrow
It's no surprise that DC's Legends of Tomorrow made the cut, as it's a spin-off from Arrow and The Flash — which both rank high on the top twenty list. Its time-jumping nature generates questions and theories, which enables its second season to have an average demand expression of 2,083,300.
18. Grey's Anatomy
Shonda Rhimes's first and longest-running show maintains a high level of buzz thirteen seasons deep and several major character deaths in. The ABC medical drama has an average daily demand expression of 2,010,091.
19. Westworld
The emphasis on shocking twists and revelations generated conversation around the HBO robot western, as fans took to social media to crowdsource its mysteries. Even months after Season 1 is off the air, it has an average daily demand expression of 2,005,902.
20. Vikings
The gritty Nordic epic might have knocked off several major characters in its fourth season, but the time jumps and shocks helped generate interest. As Alex Hogh Andersen, who plays new star Ivar told Inverse, the series is hardly slowing down now that Ragnar's sons are the focus. Season 4 of the scripted History drama has an average daily demand expression of 1,933,177.
Keep in mind that these are merely the most in-demand shows in the world for spring of 2017. Still, our taste in entertainment shows that whether it involves dragons, vigilantes, vampires, robots, or hot doctors, escapism is the true global uniter.