'Vikings' Alex Høgh Andersen Describes Ivar's Speed Crawl
The ferocious, crippled, new Viking talks refining his crawl, pranks with Travis Fimmel, and 'Vikings'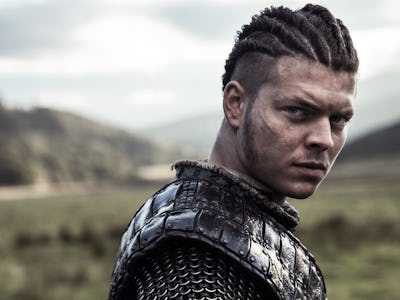 Alex Hogh Andersen 
When you think of a fierce Viking warrior, a sexually impotent guy who can't walk is probably not what comes to mind. But Ivar The Boneless — who appears in History's Vikings as played by Alex Høgh Andersen — is redefining our perceptions.
Ivar was born with a condition, rendering his legs useless, hence the nickname. Normally, this would be grounds to let a baby die in the world of Vikings, but his mother decided to keep him. Alternately brash and tragic, menacing and mischievous, Ivar has stolen every scene of Season 4B thus far. Inverse caught up with Andersen to discuss the pitfalls of crawling around the set, pranks with Travis Fimmel, Season 5, and more.
Since you stepped into a role that was previously played by another actor, did you use him to inform your performance at all?
The little fellow who played me was six years old so there wasn't much we could talk about, but he did an extraordinary job. I picked up a lot about Vikings and the accent from just watching the show, and especially Travis [Fimmel]. In a way that was simple — trying to be like Rag — because his son would naturally have some of his mannerisms. The way he was acting with his eyes and body language is what I've been trying to do. Being not able to use your legs and stand up and choreograph the scene has been frustrating but also interesting as an actor. I compensate with my upper body and act a lot with the face. I think less is more, so I tried my best to keep it about the eyes.
What was the hardest part of refining your speed-crawl?
Crawling around a hotel room for three weeks when we first got here; trying to figure out how it was going to look. I was watching a few documentaries about disabled people, but if [the camera] is going to look at my face, I should be crawling forward and not backwards, which many do. It's easier on your body to do it backwards.
Was it rough on yours?
My back and wrist hurt a little, but you swallow it. We had one scene — me and Travis — that was just a transportation scene, and I was crawling 10 meters. But they couldn't get the focus right, so we did that eight or nine times. I ended up crawling almost 100 meters. But they took very good care of me onset, so all good. All of the four brothers got a personal trainer when we first got here, and he killed it every day for three weeks. He gave us some techniques to keep the work up ourselves.
What's been your favorite part of playing Ivar?
I cannot describe how spoiled I am to be able to work with such a challenging character. Every scene is interesting because he can do whatever he wants and get away with it. Also the physicality of it. I love every time I have a chance to crawl. I really think that is important, because he is an anti-hero, and he will be challenging the audience quite a bit. He needs to be balanced. I love those things where he's crazy and furious and killing — but I also love the scenes where he is having a light conversation with his dear father and trying to create a relationship with him.
Speaking of challenging the audience, that was an interesting sex scene in the first episode. Male impotency is a brand of masculinity that is not typically shown on TV. What was that like for you to explore?
It's lovely to show his vulnerability. I think that's what makes a character strong. The character is strong if he is able to show his weaknesses and use that to open up to the audience. It's outstanding to work with. It's such an extraordinary moment for him, and for the future as well. It's a personal problem for him for many episodes, and for the rest of his life.
And you recently posted a photo where it looks like you and Marco Ilsø are getting arrested. What's the story there?
We were going on set and we were standing by in the bus, and the guy that was coordinating the traffic was this officer. We looked at each other and simultaneously nodded because we both knew what was going down. Marco plays Hvitserk, and he just threw himself on top of the car and the officer laughed and I took the shot. We've pranked a lot. I'm of that belief that if you're good friends, you play better. The amount of food that's been thrown around and hit me in the face and elsewhere, I shouldn't talk about — we picked it up a little from Travis. It's something we do to keep the whole thing light, because it's very serious stuff that we shoot.
What does Ivar's future look like? What are you looking forward to?
He really can't participate in battles. He's going to be on top of the hill organizing the whole thing. He's a brilliant military strategist and that's his role and why he also stays mysterious — he's always in the background, but he is the one pushing the buttons. He is an intelligent, little sociopath who really just needs some love. There's no limitations to what he can do.
I'm halfway through the fifth season now. Some of the stuff that we've shot with Ivar is very challenging. I'm looking forward to seeing how the audience will react to him, and to the end of Season 4. I'm just excited to see where the next raid will take us. Give Ivar a chance — remember where he's from and what he's been through.
Vikings Season 4B is currently airing on History.