What if 1899 was just bad?
How one Netflix decision may have doomed 1899 — and the entire company.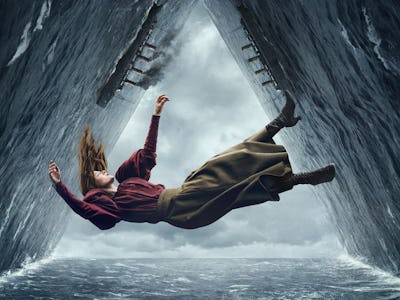 In September 2020, one meal changed the course of Netflix history. Just a few months after his promotion to co-CEO, Ted Sarandos flew to New York to meet with Cindy Holland, an executive who took a hands-on approach in launching some of the company's most popular original shows, including House of Cards, Orange Is the New Black, Stranger Things, and The Queen's Gambit. He fired her.
More than two years later, we're starting to see the results of that decision as Netflix churns out forgettable chum on a weekly basis, and even its most revered creatives can't get their shows renewed for a second season. The unexpected cancellation of 1899 has nothing to do with the future of television and everything to do with Netflix's past finally catching up with it. Here's why.
Back in April 2022, after Netflix revealed that it had lost subscribers for the first time in over a decade, The Hollywood Reporter published a deep dive into the internal power struggle that brought the streaming giant to its current predicament. The battle for Netflix's soul played out between three people: Holland, Sarandos, and Bela Bajaria.
Bajaria, a former network TV executive, joined Netflix in 2016 as head of unscripted and international content. Her arrival heralded "the beginning of the Walmart-ization" of the company, one inside source told THR. Hired to expand reality TV and international programming, Bajaria soon clashed with Holland, the article says. She reportedly approved shows Holland's team had rejected (including the forgotten flop Insatiable and the trashy-but-beloved You) while dismissing prestige-level projects like Queen's Gambit.
Ultimately, THR reports that Bajaria won due to a mix of cost-cutting at Netflix and Holland's willingness to stand up to Ted Sarandos' worst instincts when no one else would. In 2020, Holland was fired and Bajaria got a huge raise. Two years later, Netflix was losing subscribers and had developed a reputation for canceling beloved (and seemingly popular) shows, all while The Circle gets a Season 5.
There are plenty of theories as to why a show like 1899 was canceled despite dominating the streaming charts and coming from the showrunners behind Dark, a beloved Netflix hit. But what if the reason is actually extremely simple? What if 1899 was just bad?
To put it bluntly, compared to Dark, 1899 is a mediocre show. The characters have less depth, the dialogue is less interesting, and the plot is almost nonexistent aside from the predictably opaque cliffhangers that end every episode. Dark worked because it was weird and cryptic and German, but also because you cared about the characters. Six episodes in, I couldn't care less about anyone on this weird haunted boat. (Confession: I haven't finished Season 1 yet and I'm aware there's a massive twist coming, but that doesn't excuse everything I've seen so far.)
This isn't a unique situation. The same goes for The Midnight Club, Mike Flanagan's latest horror project for Netflix. While the showrunner has established himself as a master of the genre capable of telling compelling tales with unforgettable characters, his latest fell flat. It was an anthology full of boring stories (the stories were all being told by troubled teenagers, so maybe that was on purpose) and the overarching story failed to resonate. (I'm still holding out hope Flanagan's final Netflix series, The Fall of The House of Usher, can redeem him.)
Meanwhile, the only things that seem to work on Netflix anymore are legacy projects like Stranger Things, recognizable franchises like Wednesday and The Sandman, trashy TV like Emily in Paris, and even trashier reality TV that's conveniently cheap to produce. The rare exception these days seems to be unexpected international hits like Squid Game. Not a huge surprise considering that Netflix's original programming is now dictated by its former head of international content.
Netflix has a quality problem. And while it's tough to say who exactly is to blame, it's easy to identify the one missing ingredient that made some of its early shows so great. Could Cindy Holland have saved 1899 from itself? We'll never know, but one thing is for sure: The battle for Netflix's soul is over, and the loser is all of us.