Kate Siegel says Netflix's Fall of the House of Usher is "like nothing anyone has ever seen"
Siegel reveals what makes the new Mike Flanagan series different.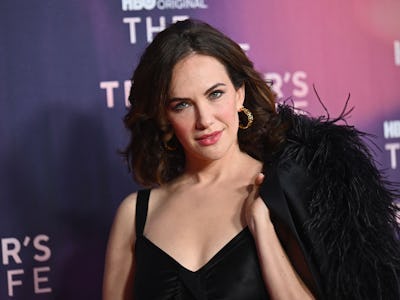 ANGELA WEISS/AFP/Getty Images
Kate Siegel loves her job. That was clear in every moment of our conversation when we spoke to Siegel last month about her work in The Time Traveler's Wife. In the HBO sci-fi drama, she plays Annette, the late mother of the titular time traveler, though the actress is best known for starring in her husband Mike Flanagan's projects, like The Haunting of Hill House and Midnight Mass.
One of Siegel's next projects is the upcoming Netflix series, The Fall of the House of Usher. Inverse asked Siegel — who is currently filming the show — how the new series will be different than Flanagan's previous horror projects.
During our interview, Siegel compares the House of Usher production to the experiences of filming Hill House and Midnight Mass.
"In every Flanagan film and TV show I've been on, the experience takes the shape of the story we're telling," the actress tells Inverse. "The Hill House set felt like a family. There was infighting and love and passion. The Midnight Mass set felt like a long meditative journey full of love; it felt like decades of understanding."
For the upcoming series, it was a continuation of that pattern.
"The Fall of the House of Usher is a bombastic, chaotic evil mess," Siegel says. "It's buckets of blood. It's so much fun to do. The characters are all turned up to 11, and it's like nothing anyone has ever seen. But something kind of lurching and evil is making its way through all of us."
If Siegel's comments suggest anything, it's that The Fall of the House of Usher is going to be an unprecedented entry into the Flanagan-verse and one Siegel looks forward to seeing released into the universe.
"I am so excited to see the art that it makes because we've never done this before," she says. "We've never just gone, What if we made a show about gross people?"
The Netflix series is currently in production, so viewers will simply have to wait to see all of its horror delights, including those "buckets of blood," until it makes its debut.
This article was originally published on