How to Watch Jeff Sessions's Senate Testimony on Tuesday
The Attorney General will testify in a public hearing.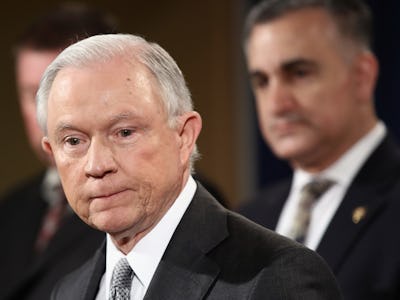 Getty Images / Win McNamee
In a continuance of the past action-packed week in politics, President Donald Trump's Attorney General Jeff Sessions is set to testify Tuesday in another highly anticipated public hearing before the Senate Intelligence Committee.
Sessions, who has recused himself from the Trump-Russia investigation over his failure to divulge, in his confirmation hearing, information about his contacts with Russian officials, is expected to push back on Comey's testimony from Thursday.
"The Attorney General has requested that this hearing be public," reads a statement issued by the Department of Justice. "He believes it is important for the American people to hear the truth directly from him and looks forward to answering the committee's questions tomorrow."
Comey in his explosive hearing declined to comment on some of the more salacious and heinous allegations around the president — allegations that are more central to the investigation now led by Robert Mueller — he did make some pretty damning claims. He stated his concerns that Trump would lie about their interactions and insinuated that there were more connections between Sessions and Russia than are currently known to the public.
Here's a live feed of the hearing from Vox:
Comey's testimony on Thursday called into question the degree to which Sessions has been honoring his recusal from the investigation.
Sessions will likely push back on Comey's testimony and might offer his own version of the events that led to Comey's firing, one perhaps more friendly to Trump and his administration. He will, of course, be under oath during the hearing.
Sessions's hearing is scheduled for 2:30 p.m., Eastern, and will be live-streamed. In the past, channels like On-Air-Politics and The Washington Post, and US News Today have hosted live streams of such events. Check back here for a link to watch the upcoming Sessions hearing live.