5 Very Specific Things James Comey Didn't Talk About and Why
The former FBI director kept it zipped about these five topics.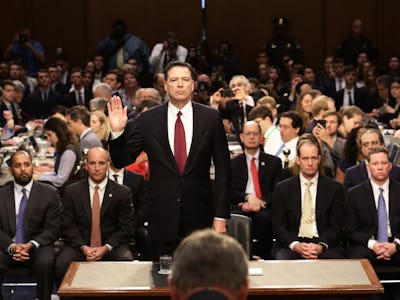 Getty Images / Mark Wilson
Former FBI Director James Comey testified to the Senate Intelligence Committee on Thursday, fielding a wide variety of questions about the possible ties between President Donald Trump's administration and Russian intelligence — but for many of them, his answer was the same:
"I'm sorry, I can't discuss that in an open setting."
In other words, hoo boy, Comey's subsequent classified hearing on Thursday afternoon is about to be lit.
After a short lunch break, Comey will sit back in front of the committee for a closed second hearing, where he will surely face sharper questions about the nitty-gritty details of many aspects of the investigation into Trump's ties with Russian intelligence and the strange circumstances around his firing.
Here are five of the very specific questions that he didn't talk about today.
One of the first things Comey directly refused to speak about was the nature of the Steele Dossier, a widely circulated memo compiled by a former British spy, Christopher Steele, that contained allegations of collusion between President Donald Trump and Russian intelligence as well as the existence of a "golden shower" tape, in which the President (before he assumed office) witnessed or participated in various sexual acts involving urine.
"At the time of your departure from the FBI, was the FBI able to confirm any criminal allegations contained in the Steele document?" Senator Richard Burr, a Republican from North Carolina and Chair of the Senate Intelligence Committee, asked.
"Mr. Chairman, I don't think that's a question I can answer in an open setting. It goes into the details of the investigation," Comey answered.
4. Did Trump obstruct justice over the investigation of Michael Flynn?
Comey confirmed that Trump's former National Security Advisor Michael Flynn was "in legal jeopardy" when President Trump met with Comey and controversially asked the FBI Director to "let Flynn go." Former acting Attorney General Sally Yates (also fired by Trump) said that the Russians had "real leverage" over Flynn, probably related to the same "legal jeopardy" Comey's referring to, but the former FBI Director was cagey about any other details related to the Flynn investigation.
What Comey specifically didn't want to talk about, however, was whether Trump's ask for leniency for Flynn was an example of obstruction of justice, which is an impeachable offense.
"I don't think it's for me to say whether the conversation I had with the president was an effort to obstruct," Comey said. "I took it as a very disturbing thing, very concerning, but that's a conclusion I'm sure the special counsel will work towards, to try and understand what the intention was there, and whether that's an offense."
3. What was the extent of the Trump's potential collusion with Russia?
California Senator Kamala Harris cut right to the point in her questioning of Comey:
"Are you aware of any meetings between the Trump Administration officials and Russian officials during the campaign that have not been acknowledged by those officials in the White House?" Harris asked.
"That's not a - even if I remember clearly that's not a question I can answer in an open setting," Comey replied.
Harris kept going:
"Are you aware of any efforts by Trump campaign officials or associates of the campaign to hide their communications with Russian officials through encrypted communications or other means?"
But she didn't get anywhere: "I have to give you the same answer, Senator," Comey said.
Harris then asked whether Comey was aware of Trump associates destroying evidence of conversations with Russian officials, and Comey gave her the same answer again. In other words, all of the really juicy stuff about the ongoing investigation, which is now in the hands of special prosecutor Robert Mueller, will get aired behind closed doors.
2. What's going on with Vnesheconombank?
In December, Trump adviser and son-in-law Jared Kushner met with Sergey Gorkov, the chairman of Vnesheconombank, a Russian state-owned financial institution. Senator Angus King, an independent from Maine, asked Comey straight up, "What do you know about the Russian Bank VEB?"
Comey paused, and then replied, "Nothing that I can talk about in an open setting. I know it exists."
In other words, the only thing Comey felt comfortable saying about VEB in public was that he was aware of its existence. This whole exchange was gone in about 20 seconds of the two hour and 40 minute hearing, but you can be damn sure it's going to come up again in the classified hearing.
1. What does the FBI know about Attorney General Jeff Sessions' Russian ties?
In March, Attorney General Jeff Sessions recused himself from any Department of Justice investigations involving Russian ties in the Trump Administration, after word got out that he met with the Russian ambassador privately twice in 2016. Sessions, who was a Senator at the time, says the meetings had nothing to do with his role in the Trump Administration, but Comey's testimony made the whole thing look super shady. Senator Ron Wyden asked Comey why Sessions recused himself, and Comey's answer was extremely telling.
"Our judgment as I recall was that he was very close to and inevitably going to recuse himself for a variety of reasons. We were also aware of facts that I can't discuss in an open setting that would make his continued engagement in a Russia-related investigation problematic," Comey said.
What those additional, classified facts are could be huge for Sessions, and for the entire case as a whole.
The rest of Comey's testimony will take place behind closed doors on Thursday, but given the leak-happy culture of Washington D.C. at the moment, it's highly likely we might get answers to some of these big questions soon.