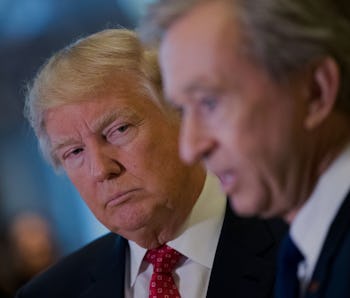 Culture
Here's the Full Memo About Donald Trump in Russia
It reads like a bad spy novel, but if it's true, it could change everything.
Getty Images / Drew Angerer
According to an unconfirmed but expansive intelligence report published by BuzzFeed News, President-elect Donald Trump might have hosted a "golden shower" party with prostitutes in Moscow while his campaign kept up a steady interchange of information with Russian government agents seeking to secure his election. It's important to note here that the entire report — gathered by a former British intelligence official doing opposition research on Trump for Democrats and Republicans — might be bullshit, but it's serious enough that Trump was notified of the Russian government's alleged amount of dirt on him during last week's intelligence briefings.
At 5:15 p.m. Eastern on Tuesday, CNN published this explosive story that claims U.S. intelligence officials briefed President-elect Donald Trump on the information that the Russian government might have "compromising personal and financial information" on him, but it was only a two-page summary of the report. An hour later, BuzzFeed News published the entire document — a 35-page unconfirmed memo that drops (alleged) bombshells like this:
Trump rented out the presidential suite of the Moscow Ritz Carlton Hotel, where President Obama and the First Lady stayed, and paid prostitutes to perform "golden showers" all over the bed; traded information with Russian intelligence agents, including modifying campaign promises to fit Russian foreign interests in Ukraine, and took cushy real estate deals in Moscow.
The information came from a series of memos that filtered through private organizations and made their way to the intelligence community, who briefed Trump and President Obama on their existence during a meeting Friday.
The situation is reminiscent of a spy novel you'd buy in an airport: During the 2016 election, anti-Trump interests in both political parties began conducting opposition research on Trump, digging for information that could hurt him in an election. The initial memos were compiled by a source claiming to be a former British intelligence operative who had worked in Moscow. CNN reports that this alleged British spy — deemed credible by American spies he'd worked with — learned from his Russian sources that the Kremlin had the compromising information on Trump.
The kicker is that the memos have been pretty much "public" knowledge to some members of the press and DC insiders for months. Senator John McCain obtained a copy of the reports and turned them over to the FBI in December, But after CNN's report, BuzzFeed News made the decision to put everything they had on the web "so that Americans can make up their own minds." Now that the story is truly public, most major news organizations — and major intelligence organizations — will be working to verify the reports claims.
As journalists on Twitter have noted, some of the report's wild claims have already been investigated, but there still isn't a definitive consensus.
You can read the full document below: