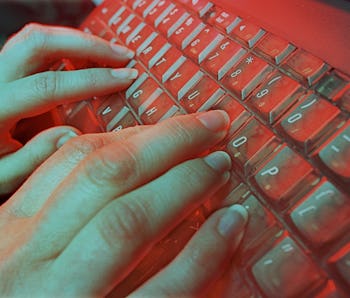 Culture
Pornhub Searches for "Golden Showers" Just Rose 289 Percent
In just two days, the fetish saw a meteoric rise in interest.
Getty Images / Michael Smith
In the wake of the explosive allegations contained in the as-yet-unverified intelligence memo regarding Donald Trump's possible connections to Russia, the president-elect's financial entanglements aren't the only thing that has garnered increased public attention. According to an analytics report released by Pornhub Insights, politics is once again creeping into people's porn preferences. Specifically, golden showers, sex acts that involve urine, are on the rise after the unconfirmed memo reported that Trump experimented with a wild night of water sports in Moscow. According to Pornhub, searches for the term "increased by 289% compared to the usual daily average" between January 9, the date the memo story broke, and January 11.
The intelligence memo alleged, among other things, that Trump conscripted Russian prostitutes to pee on each other in a Moscow hotel room while he watched. The porn-consuming public evidently wanted to see what that was all about. Similar trends were observed for other search terms, like "pissing" and "Donald Trump," which both saw increases of well over 200 percent within the same time frame as "golden showers." Whether the heightened searched traffic was the result of simple curiosity or newly piqued interests, it's tough to say.
But Pornhub didn't stop with those statistics alone. It put together a state-by-state breakdown on Americans' interest, or lack thereof, in "golden showers."
The map shows that Vermonters, New Hampshirites, and Mainers have the highest affinity for "golden showers", while Hawaiians, Mississippians, and Texans are much less into it. Pornhub posited facetiously that one explanation for this geographic split could be because this particular sex act is one "way to keep warm in the winter." Also worth mentioning is the fact that of the states with the top 10 most search hits, only Pennsylvania and Wyoming went for Trump in the election — and Pennsylvania only by the narrowest of margins.
But perhaps most interesting of all Pornhub's observations around the "golden showers" search term was its revelation about the age groups that most frequently seek it out.
According to Pornhub's data, frequency in searches for "golden showers" increases sharply and steadily in proportion to age. Persons 65 years old or older — Trump's generation — are 75 percent more likely than any other age group to search for the term. With this in mind, it seems like Trump's sexual curiosities (if indeed the memo in question proves truthful) are much more aligned with his temporal peers than most would realize. The youngest demographic (also the least likely of any age group to have cast a ballot for Trump) are by comparison widely uninterested in "golden showers."
The release of this data marks the second time in recent weeks that Pornhub has found its analytics in the news. Earlier this month, it released its global 2016 Year in Review, a detailed report on the porn preferences of the entire world. The full analysis of its "golden showers" data can be found here.