Pornhub Released a Detailed Map of the World's Porn Interests
Getting kinky is a global phenomenon.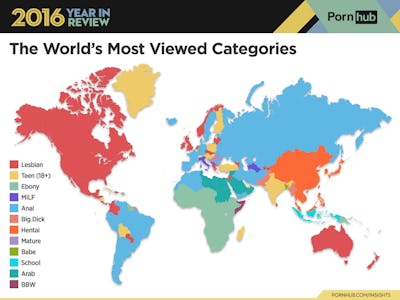 Pornhub
There's one thing that people from all over the world like to enjoy: porn. With 2016 having wrapped up, leading pornography site Pornhub released its annual report on Thursday. And oh boy, did it reveal quite a bit about global smutty interests.
Over the course of 2016, the world consumed a whopping 191,625,000 days of porn on Pornhub. That translates to 5,246 centuries worth of material. The United States accounted for the most porn watched per capita, with Iceland, the United Kingdom, Canada, and New Zealand rounding out the rest of the top five in that category. In the U.S., the most searched term of the year was lesbian, with step-mom, milf, teen, and step-sister not far behind. But beyond just those broad statistics, Pornhub's year in review contains a litany of other data about the popular porn trends of 2016, including breakdowns of porn searches by individual country, and an examination of viewership by gender.
One of the more interesting trends in the data was that, in the United States specifically, porn searches for popular video game Overwatch skyrocketed up the list. It went from nonexistence to beat out 452 other categories, arriving near the top of the list by the end of the year.
But perhaps the most notable map in the report is the one that shows what everyone was looking for country by country. North America appears to be in just about unanimous agreement that lesbian porn is the way to go, while a significant portion of South America — along with a host of other countries, like Russia, France, and Spain — preferred anal.
Hentai was most popular in East and Southeast Asia, with Africa and parts of the Middle East gravitating toward ebony and Arab, respectively. Somalia, meanwhile, decided to chart a course all its own. There, BBW (Big, Beautiful Women) was the most-viewed category.
Taken together, the data gathered by Pornhub represents one of the largest collections of information on peoples' porn viewing habits ever assembled. You can view the report in its entirety here. Countless theories and conclusions can likely be drawn from its depths, and one can only guess how things will change, or stay the same, in 2017.