The Science of Golden Showers
The fetish that Donald Trump allegedly might have was only explained in 1982.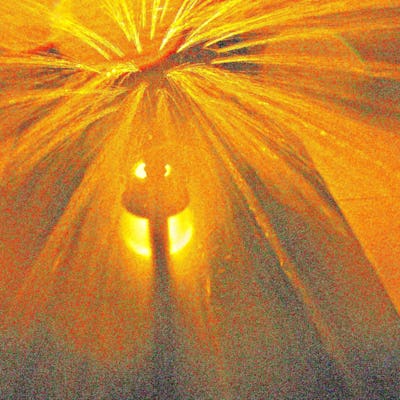 Jun Acullador/Flickr
A 35-page document published on Tuesday evening details disturbing but unconfirmed allegations that President-elect Donald Trump has been deeply connected with Russian government agents, who sought to influence the November election in his favor. But what's capturing the internet's collective fascination is a paragraph that colorfully suggests that Trump partook in "golden showers" with Russian prostitutes.
Here's the text in question:
However, there were other aspects to TRUMP's engagement with the Russian authorities. One which had borne fruit for them was to exploit TRUMP's personal obsessions and sexual perversion in order to obtain suitable 'kombromat' (compromising material) on him. According to Source D, where s/he had been present, TRUMP's (perverted) conduct in Moscow included hiring the presidential suite of the Ritz Carlton Hotel, where he knew President and Mrs OBAMA (whom he hated) had stayed on one of their official trips to Russia, and defiling the bed where they had slept by employing a number of prostitutes to perform a 'golden showers' (urination) show in front of him. The hotel was known to be under FSB control with microphones and concealed cameras in all the main rooms to record anything they wanted to.
Which, ultimately, invites the curious reader to ask: What is the science of the golden shower?
First, let's define this thing: A "golden shower" is the tongue-in-cheek descriptor for a sex act involving peeing. This can take several different forms: It can be one person peeing on another, both peeing on one another, or several people peeing on each other. The important takeaway is that there's pee involved, and that it somehow turns one or more parties involved on sexually. If you're turned on, congratulations! You, golden shower appreciator, may share a characteristic with our next President-elect, and you are definitely a urophiliac, or someone who finds urine a turn-on.
Urine is a very simple substance: It's primarily just a mix of water and salts. It's also got a tinge of waste in there — whatever your kidneys have flushed out from your body, along with excess compounds your body has deemed either risky or unnecessary. These toxins take the form of urea, among other toxins, which give pee that characteristic smell and color, both of which contribute to it being regarded as sort of icky.
That is, unless you have a fetish, an object or action that derives some strong sexual response from a person. That can involve everything from a non-human object (stilettos), a non-genital body part (feet, for example), role-playing (Fifty Shades-esque bondage or role-playing), or — most relevant here — a bodily secretion, like urine. Importantly, fetishes normally involve a practice or thing considered somehow dirty or off-limits for social consumption, which is why they're subjugated to the domain of being a fetish. The average human isn't turned on by pee; most people will scrunch their nose at the mere scent of pee, or find it somehow disgusting. But those who get aroused by a golden shower find pee somehow sexually arousing.
Justin Lehmiller has written the book on the psychology of human sexuality and has studied fetishes. The common theme in fetishes is the underlying layer of being somehow off-limits in society; many have some sense of being either disgusting and/or socially inappropriate. Some fetishes have stood the test of time. Feet are perhaps the most yawn-worthy of a fetish in this realm; others have changed due to changes in social status quos — heterosexual Victorian men found bare ankles and knees instant-boner-inducing, most probably because women were told to keep them covered; it's safe to assume that most straight American guys won't get hard from spying a stray female ankle or knee. There seems to be a correlation amongst people with high sex drives and fetishes — some researchers suggest that people who are hot and bothered more frequently try to get randy with objects that are most commonly around them to fill the void. And for reasons that aren't yet quite understood, men tend to be the ones that carry a fetish, while women often make up the fetishized (this could also be a matter of sociology in traditional dominant male/submissive female gender norms, but again, that's speculation).
That said, how your brain operates on a fetish remains a bit of a mystery — it's not easy to test, after all, how high heels brings a rush of blood to the genitals. There are several theories on how and why fetishes operate, as Lehmiller outlined in a 2014 Shape article. But the most relevant theory when it comes to golden showers is what Lehmiller calls "the gross-out": When a person is sexually aroused, their disgust impulse weakens, which makes sense, given sex is sort of a disgusting thing in and of itself. In daily life, you're probably irked by feet, grossed out by spit, find poop and sweat and hot breath repulsive. But when you're aroused, you might not scrunch your nose up at these things and, ironically, find them, well, sexy.
That's what urophiliacs, at least, feel regarding urine. It wasn't until 1982 when a researcher published the definitive psychological exploration of urophilia in The Canadian Journal of Psychiatry in "Undinism: The Fetishization of Urine". The researcher, R. Denson, classified undinism (his term for urophilia) as having two purposes: masochistic, where a person enjoys being peed on; or sadistic, when a person is the pee-er. As one might notice, this seems to exclude Trump's alleged actions, as he didn't seem to be involved in the urination process. Denson had that base covered, labeling what Trump allegedly experienced as "uromasochism" or "urosadism," which is finding the humiliation of a person — here, via peeing — sexually arousing.
Urinating on someone has mixed effects on a person. On one hand, pee has legendary properties, as carefully cataloged by Smithsonian Magazine in 2013, which cites urine's ammonia as a powerful cleaning agent that neutralizes dirt and grease and was the secret to 16th-century British textile cleaning techniques. And pee makes for a good explosion outside the news cycle: Before potassium nitrate was cultivated in the early twentieth century, urine was used to spark ballistic firepower.
And yet, piss's high concentration of nitrates and ammonia-ness make it a myth in the cleaning world. Remember that episode of Friends, when Joey pees on Monica after she gets stung by a jellyfish? In real life, that's crap science. And while women are often encouraged to religiously pee after sex to avoid getting a UTI, it's not because urine is cleansing so much as women are flushing their urethra out of bacteria that might have traveled from one human to another.
But this doesn't mean you should reconsider pee as hand sanitizer or a replacement cleaning agent. Pee can carry STDs, though by nature of its fluidity, it won't carry disease the way blood or spit might. Its chemical nature, however, doesn't prevent a person from potentially contracting hepatitis B or genital herpes, according to the University of California, Santa Barbara, which points out that urine's famous sterility only applies to healthy humans. "Bacterial, fungal, and viral infections can be transmitted through urine," UCSB warns. "Transmission primarily occurs when urine comes into contact with an open wound, such as a burn or scrape." Besides herpes and hep-B, STDs like chlamydia or gonorrhea might be contracted if urine is consumed, and cytomegalovirus (CMV) — a flu-like virus — can be contracted. And if either partner has AIDS, maybe steer away from golden showers, given the reduced immune system of a person with HIV and potentially fatal issues like histoplasmosis, blastomycosis, and coccidiomycosis.
Which is all to say this: The fact that #goldengate and #goldenshower took off on social media are a bit misleading, in that if Trump did indeed take part in the actions the (maybe-real, maybe-fake?) leaked documents say he did, he wasn't technically taking part in a golden shower. Watching two people pee on each other is actually piss voyeurism, as Mic points out, a fetish involving the bleeding boundaries of (you guessed it) voyeurism and urophilia. While we're not sure if the President-elect actually even took part in a golden shower situation, one thing's certain: Golden showers are having their shining moment.