James Comey on Trump: "He Might Lie"
"I was honestly concerned."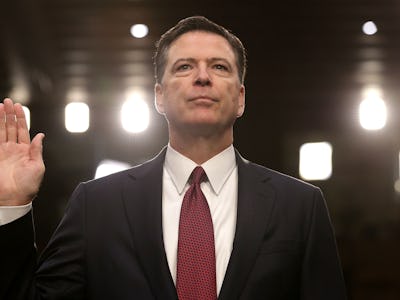 Getty Images / Chip Somodevilla
It was "a combination of things" that led then FBI director James Comey to immediately type up his recollection of his first meeting with then President-elect Donald Trump in January after leaving Trump Tower in New York City, but most damning to the president's reputation is that Comey thought Trump might lie about what was said.
On Thursday, during Comey's hearing before the Senate Intelligence Committee, he was asked by Virginia Senator Mark Warner why in his opening statement, released on Wednesday, that he "felt compelled to document" the one-on-one meeting as soon as it was over.
Here's how Comey responded:
"The circumstances, the subject matter, and the person I was interacting with," he said.
"Circumstances first, I was alone with the president-elect; the subject matter, I was talking about, matters that touch on the FBI's core responsibility, and that relate to the president-elect personally."
"The nature of the person," Comey said. "I was honestly concerned that he might lie about the nature of our meeting so I thought it really important to document."
"That combination of things I had never experienced before, but it led me to believe I got to write it down, and I got to write it down in a very detailed way."
Watch the full hearing below: