The 20 Best Free E-Books Available Right Now 
Podcasts are so 2015. Want to better yourself without dropping a dime? There's a world of free ebooks out there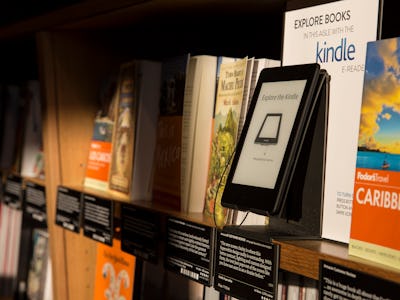 Most people who try to educate themselves on their morning commutes use NPR or podcasts as their go-to, but free ebooks are a highly underrated territory. You have your public-domain classics weirder than anything you read in school, your surprisingly good indie authors, your Lovecraft and Lovecraft imitators. All free! Here are 20 worth checking out.
1. The Divine Comedy by Dante Alighieri. The language is beautiful, the story is uncanny and haunting, and you'll suddenly find yourself getting a lot more pop culture references, because this story is everywhere.
2. Journey to the Center of the Earth by Jules Verne. Add some adventure to your morning.
3. His Last Bow by Sir Arthur Conan Doyle. If you're a Sherlock fan, even though The Abominable Bride was a little questionable, revisit the show's best episode by reading the real thing.
4. 30 Interactive Brain Teasers to Warm Up Your Brain. Add this to your Sherlock Holmes reading and you can start solving mysteries of your own.
5. Zombie's Bite by Karen Chance. Zombies aren't leaving pop culture anytime soon, so if you can't beat 'em, you might as well join 'em.
6. The Bride of Lammermoor by Sir Walter Scott. This might sound like everything you were forced to read in school: a dense, purple-prosed tale of aristocratic families and doomed love. But this is unlike any other "classic" you've read. Its resolution is so batshit crazy — a blend of dueling, insanity, murder, weddings, and unfortunately placed quicksand — you'll wonder why on earth no film adaption exists. It doesn't always make sense, but it doesn't need to. It's basically the old-timey book version of Southland Tales.
7. A King Ensnared by J.R. Tomlin. Just because George R.R. Martin isn't getting his shit together anytime soon doesn't mean you can't still get your medieval scheming fix.
8. Treasure Island by Robert Louis Stevenson. Forget Pirates of the Caribbean and the franchise's disappearance up its own ass; this is the original pirate adventure story, and Long John Silver is one of the greatest characters of all time — he's the original charming rogue. He's always popping up again in pop culture, so this tale, too, is one that never fades.
9. The Island of Doctor Moreau by H.G. Wells. Even though this story is bizarrely inept at inspiring a decent film adaptation it's one of the most chilling tales of any era. Any modern body-horror story about the perils of scientists playing God can thank this one.
10. The Karma Sutra. Valentine's Day is fast approaching, and with so much questionable advice floating around, why not pick it up from a tested source?
11. How to Start Your Business in 10 Easy Steps by Donald Allen. Follow through with that New Year's resolution to create your own artisanal dog-sweater line.
12. Pride and Prejudice by Jane Austen. If you've never read this, you probably think it's just a rom-com. While that's not inaccurate, Jane Austen was the original peddler of witty banter and snarky one-liners. Do yourself a favor and stop by Pemberley for free.
13. The Picture of Dorian Gray by Oscar Wilde. Did you like Stephen Colbert's old character?. Did you laugh at Ricky Gervais at the Golden Globes?. Any subversive or outlandish personality of the last 100 years has Oscar Wilde to thank. His wit is timeless, so you might as well get yourself acquainted.
14. Top 35 Easy Snacks and Appetizers by Julie Brown. Because who doesn't want to learn some new tricks in the kitchen every now and then. You gotta snack sometime, man.
15. Squall by Sean Costello. Survival stories and man versus nature are all the rage right now, between The Hateful Eight and The Revenant. Grab this one for free and hang on.
16. The Crystal Crypt by Philip K. Dick. Dick is responsible for some of the smartest sci-fi story in the past 50 years: Blade Runner, The Man In The High Castle, Total Recall, Minority Report, The Adjustment Bureau. You already know his work, if filtered, so why not go straight to the source?
17. The Cosmic Computer by H. Beam Piper. In case one Philip K. Dick isn't enough, here's a high-quality imitator.
18. Edgar Allan Poe's Complete Poetical Works by Edgar Allan Poe. If you've never read Poe before, shame on you. Nevermore.
19. The Call of the Cthulhu by HP Lovecraft. Did you like the first season of True Detective? What about The Leftovers? or a China Miéville book?. All Weird Fiction goes back to Lovecraft.
20. The Winter's Tale, by William Shakespeare. Although all of Shakespeare's plays are epic and you couldn't go wrong with any of them, this particular work is one you probably didn't read in school but it has the best stage direction of all time: the nonsensical, fabulous "Exit, pursued by a bear." Shakespeare's stage directions are usually a simple "He enters, she exits, he dies." If you think this one sounds out-of-context, and surely you'll understand once you read it, you won't. It's dropped in the middle of a scene with absolutely no prior references to bears and it has baffled scholars for years.
But really, Shakespeare was onto something. It's how we should all strive to exit.