Learn Weird Fiction, Game Design, or Counterterrorism From Your Couch in 2016 
From Weird Fiction to master manipulation, here are some skills you can learn without leaving your couch.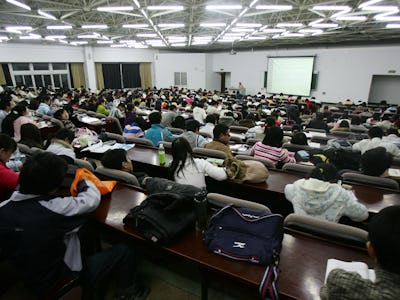 Look, this year, how about skip the resolutions. In 2016, instead of focusing on promises to yourself you know you'll break — dieting, jogging, ending that "relationship" with the person who vanishes in the light of day — why not better yourself in ways that are more durable. Here, learn a new skill. Do it from home. Here are a few online courses that are worthy of your 2016 goals.
Learn to write weird fiction
Weird fiction is awesome, and you've wandered through its rugged landscape whether you're aware of it or not. Seen Season 1 of True Detective? All that Yellow King stuff was weird fiction. Read a Jeff VanderMeer book, seen a Damon Lindelof show, or planning to watch HBO's adaptation of Atwood's MaddAddam trilogy? You're going to be engaging in Weird Fiction. But what's even better than reading or watching it is learning how to write your own —which you can do in an online workshop in February and March called Writing the Weird.
Begin your career as James Bond
Consider a career as the next James Bond, now that Daniel Craig seems to be stepping down? Or maybe you just want to don a Guy Fawkes mask and join hacker group Anonymous but you want to be more informed about what you're fighting. It's your lucky day, because you can get a well-rounded education in this online course in Counterterrorism Theory and Practice.
Make your own video games
Love gaming but have some issues with your favorite games? Do what Brianna Wu did and take matters into your own hands. If you don't know the first thing about how you'd do that, it's OK — this online course has you covered.
Play the Game of Thrones and win
Are your favorite Game of Thrones characters Littlefinger, Tywin Lannister, and Margaery Tyrell because you respect their schemes and machinations? Learn to be your own master manipulator with this online course. Decapitations and massive snow zombie battles not included.
Follow your rock star ambitions
Rock 'n' roll may be flailing, but it's not dead yet. Help resurrect it by learning about the music industry online. Because you never really moved on from that rock star ambition you had as a kid — and you shouldn't have to.