What To Expect From 'Sherlock the Abominable Bride' 
The Sherlock Christmas special sends Sherlock to the Victorian era on January 1st.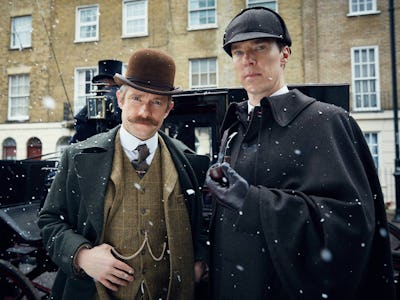 The Sherlock Christmas special "The Abominable Bride," which sends Sherlock and Watson back to Sir Arthur Conan Doyle's roots in the Victorian Era, is fast approaching. And while we'd rather see Sherlock sent to the future instead of the past, we've resigned ourselves to the fact that that it's happening and it's probably going to be great.
Here's a rundown on what to expect from "The Abominable Bride."
Don't expect them to stop and smell the roses just because they're in an old-timey setting
For those who fear that a jaunt to the 19th century will rob this Sherlock of its essence — the fast-cuts, the mind-palaces, the texting, Benedict Cumberbatch's slickly modern Sherlock, the homoerotic innuendos between Sherlock and Watson — you have no need to worry. Martin Freeman, who plays Watson, has said the following about the Victorian special's pacing: "It's still very fast-moving. There's no sense of it being sedentary because it's 'old' - it's still our version."
If you're still having misgivings, you're not alone: Cumberbatch himself admitted that when he first heard the idea, "I thought they'd finally lost the plot, jumped the shark … then they expanded the idea and pitched it to me properly and I think it's fantastic. Absolutely brilliant."
Showrunners Steven Moffat and Mark Gatiss excel at jumping between timelines in Doctor Who — there's no reason to think they won't work their magic in Sherlock.
Do expect killer mustaches and mutton chops
This time around, poor Watson probably won't be mercilessly mocked for his mustache — which is good, because he's rocking a borderline later-day Nietzsche 'stache there. He will fit right into Victorian society, as will DI Lestrade when he debuts a snazzy new hairstyle. You could shear sweaters out of those sideburns.
Also, expect some good old-fashioned depravity and creepy crawlies
Sherlock Writer and delightfully sneering Mycroft actor Mark Gatiss has referred to the special as a "victorian gothic". The Victorian gothic genre — which saw a particularly strong comeback this year — is hardly buttoned-up.
Sure, their clothing might have been stiff, their collars higher, their skirts longer, but all that repression festers and boils over into some truly strange territory, which you know if you're a fan of Penny Dreadful or Crimson Peak. Common genre tropes include crumbling estates, decadent aristocrats, incest, the occult, and lots of blood. "The Abominable Bride" is set just seven years after Jack The Ripper's reign of terror, which is not enough time for Londoners to have stopped looking over their shoulders.
Sherlock "The Abominable Bride" will mark the first time the series will air on the same day in both the UK and the U.S. — you can find it on BBC One and Masterpiece on PBS on January 1.