Chrissy Teigen, Questlove, Freddie Prinze Jr., and Other Cookbooks We Can't Wait for in 2016 
The new year will bring celebrity cookbooks from Questlove and Kelis, vegan and fried food, and more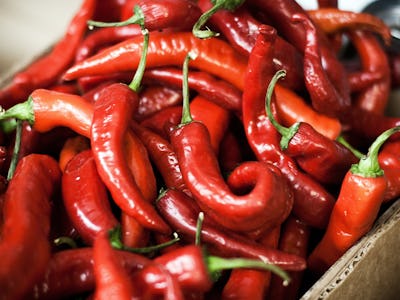 With the new year fast approaching, you'll undoubtedly be making resolutions and goals like learning new skills, marking your calendar for upcoming fantasy book releases, or finally buckling down on that diet you've been meaning to follow. Diet goals can be hard to stick to if you're used to cooking your food in a certain way, but here are six cookbooks that could provide inspiration in 2016.
1. Questlove's cookbook
Celebrity cookbooks are usually bullshit — recall Gwyneth Paltrow's tone-deaf suggestion that anybody can eat healthy food for just $300 a day! — but 2016 is bringing a few celebrity cookbooks that actually might just be worthwhile. In addition to being good at drumming, singing, DJing, and producing, The Root's drummer Questlove knows his food, and his eclectic travels could bring a fresh worldview to your kitchen.
2. Vegan Under Pressure
Flirting with the idea of going vegan but hesitant because most vegan food sucks? Don't give up on that new year's resolution just because you don't know how to cook the food in a way that actually has flavor. This vegan cookbook, which comes from chef and vegetarian food expert Jill Nussinow, is out on January 12, 2016.
3. The Air Fryer Cookbook
Afraid your love for fried food won't mesh with your new year's resolutions to eat healthier? This teaches you how to fry food with air instead of oil to capture the flavor without the artery-clogging. Can that possibly work? Find out on January 12, 2016.
4. Chrissy Teigen's cookbook
Chrissy Teigen's Instagram is filled with pictures of amazing looking food. Her cookbook also has John Legend's fried chicken recipe with spicy honey butter. Can he actually cook as well as sing? It doesn't matter, we want his recipe anyway. We'll find out on February 23, 2016.
5. Mix And Match
How often do you come home from work and consult your fridge, only to find a bizarre assortment of foods that don't really go together? This cookbook will help you mix and match dishes when you want to craft something edible but don't have time to run to the grocery store. It comes out February 1st, 2016.
6. Freddie Prinze Jr's Cookbook
To add one more celebrity cookbook to an eclectic selection in 2016, Freddie Prinze Jr. still exists and is coming out with a cookbook. Since he retired from teen idol-dom, Freddie Prinze Jr. has proven himself to be the chillest guy who ever graced the insides of high school lockers: instead of going on drug benders, punching paparazzi, or making a career out of divorcing models, he's become half of the most quietly great celebrity couple and taken up cooking. Mr. Buffy's cookbook will come out later in 2016.