Fantasy Books We Can't Wait to Read in 2016
China Miéville, Maggie Stiefvater, Scott Lynch -- next year is promising some truly epic fantasy releases.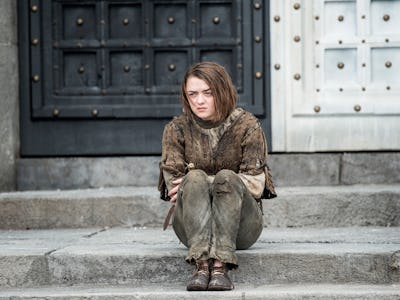 Between Comic Con becoming a pop culture institution and lands like Westeros dominating prestige TV, it's never been a better time to be a sci-fi or fantasy fan. No longer do people read their favorite fantasy books in secret, as if they're Frodo hiding from a Nazgûl. The world is changing, and in case you haven't heard, nerd is the new cool.
Nerd has, of course, always been cool in the reading world, and luckily 2016 is looking brighter than ever, with a bunch of promising offerings in fantasy, ranging from high fantasy to urban to YA. Here's a rundown of the best to keep an eye out for in 2016.
A new book from China Miéville
Like a new Guillermo del Toro or Terrence Malick film, a new China Miéville book is an Event. Good thing 2016 is bringing not one but two offerings from this master of the Weird. Along with This Census-Taker, a novella coming out on January 12, the upcoming year will also see him releasing an alternate history novel involving the Nazis, Paris, and surrealism called The Last Days of New Paris.
Ian C. Esslemont's new series
Fantasy is a genre that favors series like no other, and while epic stories spanning thousands of pages are great, even the most ardent fantasy fan must admit it can be intimidating to try to dip your toes into a world that already has 17 novels, three spinoffs, and two companion guides. It's always a relief to be able to dive into a series when it's still occupying just a few inches on your bookshelf. With a cover that looks like Assassin's Creed, a description that evokes Game of Thrones, and an author skilled at world building, we're going to be in line when this comes out on April 21, 2016.
Maggie Stiefvater's The Raven King
Maggie Stiefvater is hands-down the best YA author today. Her prose is lyrical and sophisticated; her plots amble moodily, unconcerned with convention; and her characters are strange and delightful. The Raven Cycle series features her two best: a hitman with a penchant for Anglo Saxon poetry and a disdain for rental cars, and an angry teenager struggling with his sexuality who terrorizes friends and foes alike, cuddles small animals, and pulls objects out of dreams. We'll find out who will live, who will die, who will street race, and whether sleeping kings can really wake up on April 26, 2016.
Michael J. Sullivan's new First Empire series
Michael J. Sullivan is another fantasy powerhouse who is releasing the first book in a planned five-book series just in time to jump on board. There is rebellion and there are characters named Persephone and God Killer, which is all we really need to know. The novel comes out June 28th, 2016.
The fourth Gentleman Bastard book
Do you watch Game of Thrones and find yourself frustrated that it never stops to explore its nooks and crannies enough? If you wish you could spend more time in Braavos with Arya and Jaqen H'ghar, Scott Lynch's Gentleman Bastards series is about a gang of con artists in a Braavos-esque city. The fourth book comes out July 21, 2016, so you've got just enough time to catch up.
Kelley Armstrong's fourth Cainsville Book
Kelley Armstrong is second to none in the realm of urban fantasy. Her writing is snappy, her plots are breakneck, and yet she still manages to peel back her characters' psychological layers even as they speed around on supernatural capers. She's particularly good at grumpy antisocial men, and Cainsville's ruthless lawyer Gabriel Walsh is her best since Clay Danvers. The fourth book will probably not end well for him, as it's called Betrayals, but it comes out August 2016.
Harry Potter and the Cursed Child
Yes, this is technically not a book, but do you really think an enterprising fan or ten isn't going to furiously copy this play down line by line and put it online immediately after seeing it in June 2016? I mean, play-pirating is super duper wrong — make sure you put a Confundus Charm on an usher and don't get caught, London theatergoers.
The Winds of Winter
Just kidding — unlike winter, this book is never coming. It's mildly possible George R.R. Martin will get his shit together in 2016, but you still better get your Jon Snow disappointment face prepared.