Let's Face It, George R. R. Martin's 'Winds of Winter' Is Never Coming 
'Winds of Winter' keeps getting pushed back and delayed. Time to give up, 'Game of Thrones' fans.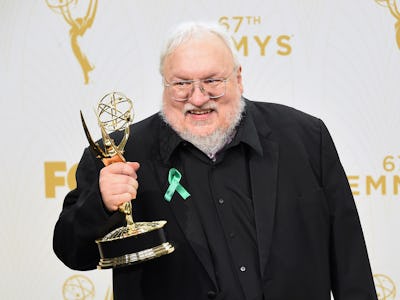 The Winds of Winter, George R. R. Martin's sixth entry in the Song of Ice and Fire series, also known as The One Where Fans Can Finally Say Jon Snow Definitely Lives, is never coming. Winter will come to Westeros long before Winds of Winter comes to bookstores.
Let's break it down. The fifth installment of the series, A Dance with Dragons, came out in 2011. Since then, Martin has been doing a lot of things that don't involve writing, like living it up at events like the Emmys.
And, not to be rude, but it's his 67th birthday? That is … not necessarily what one might think. The man himself acknowledged, "as some of you like to point out in your emails, I am 60 years old and fat and you don't want me to 'pull a Robert Jordan' on you and deny you your book."
Well, he pretty much said it, there isn't much to add to there.
He's also taken the time to hang out at events and panels like Comic Con.
And he's taken breaks to write things that are not Game of Thrones, like a novella. Even four years ago, his words to Entertainment Weekly about a definitive release date for Winter were not exactly inspiring: "Three years from now," he said. "When I'm sitting on 1,800 pages of manuscript with no end in sight, who the hell knows."
As his fellow fantasy heavyweight Neil Gaiman has said to disgruntled fans eagerly awaiting Winter, "George R.R. Martin is not your bitch". And that's valid; he's certainly entitled to bask in the glow of GoT's success and chill in California and walk on red carpets. But you know what's also valid? A writer being their own bitch and cracking the whip on themselves. You can't write an epic, unwieldy fantasy series that has become a cultural institution and expect the world to be cool with your last-semester-of-college senioritis. Finish your thesis and graduate, man.
As Stephen King, possibly the most disciplined writer on earth, says, "You can't please all of the readers all of the time; you can't please even some of the readers all of the time, but you really ought to try to please at least some of the readers some of the time." At this rate, Martin isn't trying to please any fans except perhaps the White Walkers.
Plot twist, maybe that was his plan all along: winter will descend upon Westeros, Gendry will return from his boat trip, and Rickon Stark will play the long con all the way to the throne before Winds of Winter comes out.
It's okay though, guys; the Game of Thrones writing staff doesn't need Martin to crank out quality material, they've got this.