Science Fiction Books We Can't Wait to Read In 2016
Between The Martian, water on Mars, and Margaret Atwood, 2015 was a great year for sci fi. What might 2016 bring?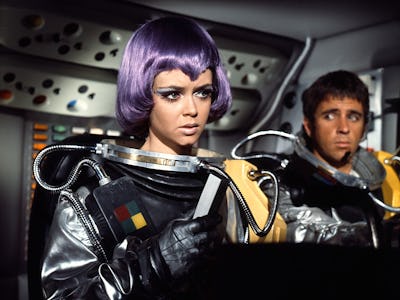 UFO
2015 was a hell of a year for any sci fi fan: the discovery that there is indeed water on Mars confirmed sci-fi's relevance, because who knows what science fiction idea can become science fact next? The genre also saw new entries from giants like Margaret Atwood — who, it should be said, considers her writing speculative fiction, sci-fi's cousin — but The Heart Goes Last was the best book of year, painting a fabulously dark, wickedly subversive future complete with sex robots and looting gangs. Sci fi also saw mainstream success with the critically acclaimed, box office demolishing film The Martian.
2016 is fast approaching, and luckily, it's looking like the sci fi world just keeps getting better. Here are some new releases you should make note of for the upcoming year.
Pierce Brown's conclusion to the Red Rising trilogy
The Red Rising trilogy is the dude-centric space opera answer to The Hunger Games. It follows Darrow, a miner on Mars who belongs to a future society with dramatically divided castes, as he fights corruption and rises through the ranks. Beginning with Red Rising and Golden Son, it concludes with Morning Star, which comes out January 12, 2016.
A new book from Brandon Sanderson
Brandon Sanderson took over the epic Wheel of Time series and ghost wrote the ending when original author Robert Jordan died, no big deal. Sanderson is known for his meticulous plotting and worldbuilding, which shows in all his work. His Reckoners series revolves around a future society that is part X-Men part Heroes part The Time Machine: a comet hits Earth, gives people powers at random, and causes society to collapse as the most powerful people replace governments and enslave the weak. The third book comes out February 16, 2016.
The Vorkosigan Saga's sixteenth book
Aside from having a name that puts any viking warlord to shame, the Vorkosigan Saga has sixteen goddamn books. Sixteen! That should put George "it takes me ten years to write one book" R.R. Martin to shame. If that wasn't cool enough, it features characters who have previously been relegated to the sidelines in the genre, like protagonists who are female, gay, or disabled. The first came out in 1986, and the sixteenth is coming out on February 2, 2016. You've got just over two months to read sixteen books.
Richard Phillips' new space saga
Richard Phillips is very good at writing about space, so you should be excited that he's starting a new series about alien invasions, wormholes, rebel armies, and a character named Jack the Ripper, because it's bound to spice up your morning commute. The first book comes out April 5th, 2016.
The newest Expanse book from James S.A. Corey
Corey's Expanse series, which focuses on a crew fighting against corruption and conspiracy aboard a stolen Martian warship, was nominated for a Hugo award in 2012 and adapted into a Syfy show of the same name. We're pretty psyched about Syfy here, so naturally we want to get our hands on the sixth Expanse book when it hits shelves on June 16, 2016.
The i09 editor-in-chief's apocalypse novel
As a fellow pop culture and science focused media outlet, we're naturally curious about whether the i09 editor has the chops to write a good apocalypse story. We'll find out on January 26, 2016.
Margaret Atwood's graphic novel Angel Catbird
Technically this is a graphic novel, and it's not certain that it's sci fi. But it's too juicy to leave off this list — and besides, even though Catbird's origin story remains uncertain, last time we checked, man-cat-birds were not present in the real world. Knowing Atwood, there will be some sort of wicked sci fi genetic splicing explanation for his condition. All of Atwood's sci fi stories are golden, so we can only imagine what they might bring when they're accompanied by images. Angel Catbird comes out fall of 2016.