Next 'Smash Ultimate' DLC may debut at Game Awards, here's who it could be 
Here's who the next addition to the roster might be.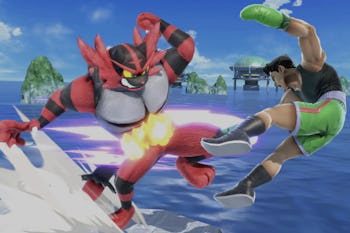 Nintendo
It's been more than a month since Terry Bogard from the Fatal Fury series joined the Super Smash Bros. Ultimate roster as the game's fourth DLC fighter. Nintendo hasn't dropped any hints about who will join the fray next, but that could change thanks to The Game Awards on Thursday.
Smash Bros. Ultimate is nominated for two awards — one of them being Game of the Year — and Nintendo could use its presence at at the ceremony to tease its next DLC addition. The first DLC character, Joker from Persona 5 was revealed at last year's ceremony.
Host Geoff Keighley said that there would be ten surprise game reveals during the ceremony, which will likely involve a brief trailer for Nintendo's fighting game.
Nintendo uploaded three private videos Wednesday to its "Super Smash Bros." YouTube playlist, all but confirming that the games giant is going to reveal new content for the title. The final fighter is expected no later than February 29, 2020, which means the company could unveil the fifth character on December 12 and release it in 2020.
Hints about who the company could include next have been scarce. But games insider, Sabi who accurately leaked a majority of the headlining press conferences at E3 2019, has refuted many of the previously rumored additions.
The leaker told followers on December 7 that: Ryu Hayabusa, Crash Bandicoot, Doomguy, Geno, Dante, Lloyd, Sora, and any Nihon Falcom characters would not make it to Smash Bros. Ultimate.
So who does that leave?
So who could the fifth DLC fighter be?
There are still a countless number of options for Nintendo to choose from, but there some hints as to what the company could be thinking for its next Smash Bros. fighter.
For starters, the game has yet to receive a female DLC fighter, which might influence Nintendo's next move. Since a Square Enix character is still a possibility, that could mean Lara Croft from the Tomb Raider series could make it into the game. Smash Bros. fans have been asking for her to be added to the roster for a long time.
There's a slim chance that Jill Valentine from Resident Evil 3: Nemesis might end up in the game. Nintendo recently added four Resident Evil spirits to the game's single-player mode. That could be bad news for RE fans hoping for someone from the horror series to be added: Nintendo has never teased any of its upcoming DLC characters with the release of Spirits.
A plethora of possibilities remain. Halo's Master Chief could make the cut as well. Both Microsoft and Nintendo collaborated to Banjo & Kazooie into Smash Bros. Ultimate, with Halo Infinite on the horizon the possibility isn't out of the realm of possibility.
Nintendo also has a host of first-party characters to choose from. It could opt to add any of the new Pokémon from Sword and Shield or additional characters from Fire Emblem: Three Houses, which has received phenomenal reviews. We'll most likely know for sure after the Game Awards.
The Game Awards air December 12 at 8:30 p.m. Eastern.