10 predictions for the Game Awards 2019, from Metroid remakes to 'GTA 6'
Get ready for a plethora of new game reveals.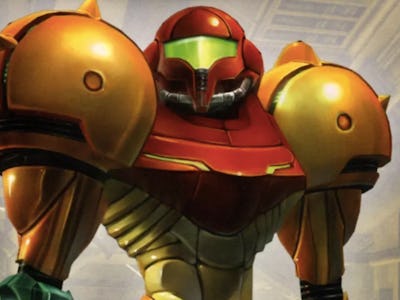 Nintendo
The fifth annual Game Awards will once again honor the crowning achievements in the video game industry over the past year on December 12. The ceremony will kick off at 8:30 p.m. Eastern time at the Microsoft Theater in Los Angeles, and 29 prizes will be handed out to the year's most outstanding titles, developers, and creatives.
All eyes will be on which of the six nominees will take come the coveted Game of the Year award. But aside from naming the cream of the crop, host Geoff Keighley said that there will be more new game reveals at event than ever before.
"More than 10 new games will be announced for the first time during The Game Awards plus updates on existing titles too," he tweeted on November 27.
Keighley previously confirmed Valve would reveal more about Half Life: Alyx at the ceremony, and added that there were never plans to feature the recently leaked Resident Evil 3 in the show. But there's a myriad of unannounced titles that are set to debut.
Here are Inverse's predictions of announcements could be in store for the Game Awards.
10. Unnamed WolfEye Studio title
The former founder and president of Arkane Studios, Raphaël Colantonio, has joined forces with fellow Arkane veteran Julien Roby to create WolfEye Studio. The small, indie outfit officially formed in November and is set to announce its inaugural title at the Game Awards.
Colantonio and Roby were both pivotal in the creation of stealth action-adventure Dishonored (2012) and the horror first-person shooter Prey (2017). They've kept their latest project under wraps, teasing only a glimpse at its concept art.
WolfEye's mission statement says the studio wants to "push [its] passion further and go deeper with the simulation and gameplay possibilities by focusing on interactions."
9. Unnamed Riot title
Riot Games wants to expand past League of Legends and into the story-based games world. The company already announced it's working on a competitor to Overwatch in October. Now its subsidiary, Riot Forge, is working with third-party developers to create new titles set in the LoL universe.
Riot's head of creative development, Greg Street, revealed that the soon-to-be-announced IP will be heavily focused on narrative. That's a new direction for the company, which has tended to focus on more competitive e-sports titles in the past
"Riot Forge is something I am proud to have helped create," he tweeted on December 5. "We are now an indie game publisher! The story-based games you want in the League universe are coming!"
8. Batman: Arkham Legacy
On September 23, WB Games Montreal tweeted a teaser for what appears to be a new Batman game. The hint included various symbols that fans have speculated are signals that Ra's Al Ghul (or The Demon's Head), and the Court of Owls (secret criminal society) will be the unannounced title's next villains.
Established leaker Sabi published a tweet that stated "Arkham legacy??" back in October, further fanning the flame around the teasers WB dropped. Sabi accurately leaked a majority of the headlining press conferences at E3 2019. They even received a cease and desist from a lawyer representing Nintendo, which further suggests their claims are credible.
The previous Batman Arkham Knight (2015) was strong reviews, leaving the door open for more sequels.
The game has not been confirmed for the Game Awards, but WB is clearly hinting at something.
7. New Crash Bandicoot title
The Crash Bandicoot franchise has made a triumphant return to modern consoles with Activision's recent releases of the Crash Bandicoot N. Sane Trilogy and Crash Team Racing Nitro-Fueled. The publisher doesn't seem to be done just yet.
Games YouTuber the Canadian Guy Eh noticed that a surprising amount of social media influencers received Crash-themed toys and apparel in recent days.
Activision did a similar thing last year, according to a tweet from content-creator Genelle Amiee, months before the release of Crash Team Racing Nitro-Fueled. The remastered racing game was then revealed at the 2018 Game Awards, and Activision may be trying to repeat the magic this year.
6. Metroid Prime Trilogy HD or Super Metroid Remake
Metroid Prime 4 was delayed earlier this year and its release date remains up in the air. But a recent leak suggested that Nintendo could remaster and release two classic Metroid games to make up for the added wait.
Twitter user LeakyPandy claimed the company plans to re-release the Metroid Prime Trilogy (2009) optimized for the Switch and a remake of Super Metroid (1994) over the next two fiscal years.
If this timeline is accurate, the Switch could have have two fresh Metroid titles by April 2022, which means it could have something to tease at the Game Awards.
5. Tony Hawk Pro Skater 1 & 2
Sabi recently teased yet another game on Twitter, this time claiming an Activision employee said the company was working on a Tony Hawk Pro Skater 1 and 2 remake.
Sabi's source claimed Activision had "demos/prototypes remade," but isn't sure if they're being fully remade or being used as tests. But with the recent successes of remakes like Resident Evil 2 (2019) and The Legend of Zelda: Link's Awakening (2019), plus Activision's Crash Bandicoot revamps could suggest it's planning something similar for the skating simulator.
Both games were met with critical acclaim when they launched, with Tony Hawk's Pro Skater 2 becoming one of the best-reviewed PlayStation games of all time. Remastering these early 2000s hits could recreate the same magic they created when upon their release.
4. Splinter Cell: Fifth Freedom
A new Splinter Cell game might also be teased at the Game Awards, according to an unconfirmed 4chan rumor published on December 6.
The alleged leak claimed it will be titled Splinter Cell: Fifth Freedom and that it is being developed by Ubisoft Blue Byte. The details are sketchy, but it's said to use a games-as-a-service model while being focusing on multiplayer and co-op game modes.
3. Mafia 4
A crop of alleged leaks posted by Redditor /u/TheTruthTeller1985 suggest that the Mafia series could finally break free from Grand Theft Auto's shadow. They claimed two anonymous former developers from studio Hangar 13 and an unnamed journalist revealed that Mafia 4 is well on its way to being finalized.
The leaks included an estimated 2021 release date, which would mean that 2K would need to tease it soon to begin to begin stirring up excitement around a new installment for its mob-adventure series. The Game Awards amassed more than 26 million livestream views last year, so there wouldn't be a better venue.
2. Marvel's Spider-Man 2
A sequel to Insomniac Games' Marvel's Spider-Man is essentially guaranteed after Sony's acquisition of the studio, but a follow-up might arrive sooner than fans ever expected. Imran Khan, former Senior Editor at Game Informer and co-host of the Kinda Funny Gamecast claims Sony and Insomniac will shock the world with a sequel announcement.
"Spider-Man 2 is probably not coming at [the PS5] launch, but it's a 2021 title," he said during December 2 episode of the podcast. "I assume Insomniac started working on that thing immediately… I know too much about this so I can't speculate too much. I think Spider-Man 2 will come sooner than we think."
The original game was announced roughly two years before it launched during E3 2016, so the timeline makes sense. However, Sony plans to host its own State of Play on December 10, a couple days ahead of The Game Awards.
1. Horizon Zero Dawn 2
Horizon Zero Dawn might have just been released last year, but executive game producer Angie Smets guaranteed a sequel during a 2018 VentureBeat interview.
"I can't really talk about what's next, but we obviously didn't invest seven years into creating this big, rich world and all of the technology for nothing," she said. "I hope everyone is super excited for the future."
Developer Guerrilla Games has also posted 16 job listings, which hit that it's putting together a team for what will likely be Horizon Zero Dawn 2. The company has yet to say anything about the upcoming game, but even a cinematic trailer at The Game Awards would serve to excite fans about what will likely be a PS5 exclusive.
Bonus: Grand Theft Auto 6
It's most likely not going to happen, but we can dream. There have long been rumors, alleged leaks, and what seem to be hints about Rockstar's long-awaited GTA 6 release. The unconfirmed title has been rumored to be codenamed "Project Americas" and will be heavily inspired by Netflix's Narcos.
Those same rumors claim the game primarily take place in Vice City (fictional Miami), but players will get to travel to a handful of Latin America-inspired areas and Liberty City (fictional New York). It's a similar concept to the Guarma mission in Red Dead Redemption 2 and the North Yankton in GTA 5.
But there has yet to be a credible source to come out with new information about the anticipated, open-world adventure. A GTA 6 announcement would blow the roof off of the Game Awards, but with such scarce details Rockstar fans will probably be forced keep waiting.
The Game Awards air December 12 at 8:30 p.m. Eastern.