'Resident Evil 3' remake on track for 2020 release, new leaks suggest
Nemesis will be back to seek its vengeance.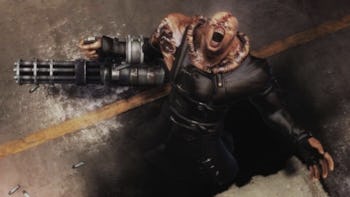 Capcom
Nemesis, the mutant super soldier who menaced Jill Valentine throughout 1999's Resident Evil 3: Nemesiswill soon return to haunt gamers' dreams. A RE3 remake has been widely expected after the success of the Resident Evil 2 remake, with a rumored 2020 release date. Now, a PlayStation Network leak seems to confirm the survival horror game is on track to drop in 2020.
Capcom has yet to officially reveal that RE3 will be remade, but on Monday three versions of the unannounced game's cover art were leaked on PSN in Japan. The illustrations were first spotted on Gamstat a site that tracks all additions to PSN. The trio of images have all been deleted, but they've since been posted across social media.
The leaks included both the Japanese and international versions of the art. The franchise is known as Biohazard in Japan and Resident Evil everywhere else.
The posters reveal a protagonists Jill and Carlos ready to blast their way through hordes of zombies in Raccoon City as a gruesomely reimagined Nemesis looms in the background. RE3 will be even more terrifying with photorealistic visuals, and Capcom could soon confirm a release date.
The 2019 RE2 remake was nominated for Game of the Year at the 2019 Game Awards. That means Capcom could use the hype around the December 12 ceremony to tease another remake in the franchise.
Without making an official confirmation, Capcom employees have said a RE3 remake was on the table since early this year. RE2 producer Yoshiaki Hirabayashi told Game Watch in January that if the first remake was received well, the team would consider revamping RE3.
"The reason why [Resident Evil 2] became a remake was because the fans continued…saying 'I want you to make a remake' for [its 21st anniversary]," said Hirabayashi. "If I hear that [there's as much demand for Resident Evil 3], I think that will be the starting point for us."
The remake clearly went over well and it seems Capcom is plotting to recreate the same horrifying magic next year. Resident Evil fans, prepare yourselves: Nemesis will be back to seek its vengeance.