'Resident Evil 3' remake confirmed? Release date, trailer info and more
We could be getting more survival horror surprisingly soon.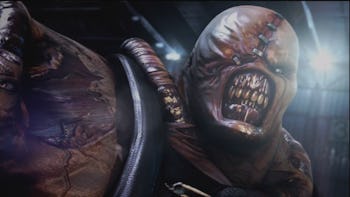 Capcom 
Capcom reportedly isn't done letting fans relive all of the spine-chilling moments of its classic Resident Evil games on current-gen consoles. On the heels of the successful launch of The company is said to be developing a remastered version of Resident Evil 3: Nemesis that could hit shelves surprisingly soon.
YouTuber Jonathan Downey, better known as Spawn Wave, reported that Capcom is well on its way towards shipping a Resident Evil 3 remake. Downey previously leaked that George R.R. Martin would be collaborating with FromSoftware to release a title, months before Elden Ring was announced at E3 2019. His past track record gives these latest claims more weight, and Capcom has also teased that a RE3 remake was totally on the table.
RE2 producer Yoshiaki Hirabayashi told Game Watch in January that if the remake of Resident Evil 2 was well received, he'd be willing to consider revamping Nemesis.
"The reason why [Resident Evil 2] became a remake was because the fans continued…saying 'I want you to make a remake' for [its 21st anniversary]," said Hirabayashi. "If I hear that [there's as much demand for Resident Evil 3], I think that will be the starting point for us."
The RE2 remake was an overwhelming success, receiving glowing reviews across the board. It's also one of six nominees for Game of the Year at the 2019 Game Awards. Capcom apparently wants to recreate that same magic for yet another 21st anniversary rerelease or RE3.
When is the Resident Evil 3 remake release date?
Downey reported Capcom aims to release the RE3 remake sometime in 2020. He didn't predict a window in which gamers could expect the title to launch, but a mid-2020 release date seems most likely.
Keep in mind that the PlayStation 5 and Xbox Project Scarlett are expected to be released in late 2020. So if Capcom wants to get RE3 onto current-gen consoles, it will need to release the game sooner rather than later.
When could we hear more about the Resident Evil 3 remake?
The game has yet to be announced, but there's a good chance Capcom might tease something during the December 12 Game Awards. After all, Capcom has a chance at stealing the show by winning the Game of the Year award. But even if the company doesn't reveal a full trailer, there will be ample amount of time for the company to sneak in a teaser to rile up fans of the horror series.
What consoles will the Resident Evil 3 remake be available on?
If Capcom does end up announcing the RE3 remake at the Game Awards, it will most likely launch on PS4, Xbox One, and PC. It's also possible the game could be a generation-straddling title, arriving in mid-2020 for current-gen consoles and later in the year for the PS5 and Xbox Scarlett to give it a longer shelf life.
What will the Resident Evil 3 gameplay be like?
Based on how soon RE3 might be released, it's likely that it might closely resemble the RE2 remake in terms of graphics and gameplay.
Capcom's previous title was built using the company's RE Engine, which debuted with the 2017 release of Resident Evil 7: Biohazard. The software is only about three years old and apart from some fine tuning, it's unlikely Capcom would revamp its entire engine so soon.
The publisher said it had "numerous titles" under development using the RE Engine during a May earnings call. That statement came after RE2 and Devil May Cry 5 were both released, so it could plausibly have been referring to a RE3 remake.
Resident Evil 3 will see the return of Nemesis
Just like how Mr. X chases down players like a Terminator in the RE2 remake, RE3 will almost certainly see the terrifying return of Nemesis.
These mutated super soldiers chase players down throughout various areas in the 1999 title. The monster looks as if Leatherface has been hitting the gym seven days a week and walks towards gamers like Michael Myers from the Halloween movies.
If Mr. X freaked you out, Nemesis might just make you shut off your console.
The Resident Evil 3: Nemesis remake is expected to be released in 2020.