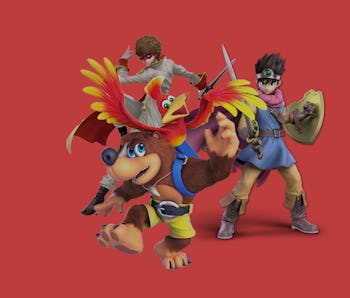 Gaming
'Smash Bros. Ultimate' DLC Leak Teases the Next Big Character Reveal
New challenger approaching! Here are 5 likely options.
Nintendo
The next Nintendo Direct could be just around the corner if a leaked screenshot from GameStop's inventory system is to be believed. The Japanese gaming company's next announcement might be brimming with new Switch announcements and even come with a huge surprise for Super Smash Bros. Ultimate fans: the next DLC character.
Redditor /u/Blakebeats182 posted a photo of an internal GameStop catalog revealing 12 unnamed new Switch games set to launch later in the year. This potential announcement coincides with the anticipated fall addition of Banjo Kazooie to the Smash Bros. Ultimate roster.
That has led many fans of the fighting gaming to speculate that Nintendo will use this opportunity to reveal the next DLC fighter that will join the brawl. Ever since the E3 2019 Nintendo Direct on June 11 — when both The Hero and Banjo & Kazooie were revealed — there has been a flurry of self-proclaimed "leaks" and educated guesses across the internet.
Here are five of the possibilities of who the fifth Smash Bros. Ultimate DLC fighter could be:
5. A Bandai Namco Character
Aside from anticipating the next Nintendo Direct, Blakebeats182 also takes a shot at predicting who they believe will be announced as the next DLC fighter. They cast a wide net for the first one and said any Bandai Namco character, which isn't that far fetched.
The Japanese game developer and publisher has been releasing games on Nintendo platforms since 2006 and already has a character in Smash Bros. Ultimate with Pac-Man. The circular, yellow fighter was added to Super Smash Bros. Wii U in 2014 and there's no reason why more Namco characters couldn't be added.
The publisher owns the Tekken, Gundam, and Soulcalibur franchises to name a few. Any character from the fighting game Tekken would fit right into Smash Bros. Ultimate, just like how Ken any Ryu from Street Fighter have found their niche in the game.
Blakebeats182's prediction is backed up by a recent rumor on the gaming forum NeoGAF, where an anonymous user claims he has inside information that Lloyd Irving from the Tales series will be the fourth DLC fighter. Lloyd is the main protagonist of Tales of Symphonia and brandishes two short swords, which could make him a unique swordsman in the crowded Smash roster.
4. Crash Bandicoot
Blakebeats182's second guess is Crash Bandicoot, the Sony-owned beloved mutated marsupial. This prediction is bolstered by an alleged leak by GameFAQ user RaySquad.
They claimed to have insider knowledge on Smash Bros. Ultimate and that Crash is high up on the list of possibilities. The recent revival of the Crash series and the release of the Crash Bandicoot N. Sane Trilogy and Crash Team Racing on the Nintendo Switch are two hints that Crash could very well make it.
3. Doomguy/Doom Slayer from Doom (2016)
Whether you know him as Doomguy, Doom Slayer, or just that badass character DOOM, the unnamed protagonist might soon join the Smash Bros. Ultimate fray to wreak havoc.
This possibility stems from the "Adeleine Fighters Pass Rumor" posted on 4chan in December 2018 that predicted The Hero and Banjo & Kazooie. It's possible that these were both lucky guesses. After all, 4chan isn't exactly known for its trustworthiness, but a perfect track record is a perfect track record.
Plus Doom Eternal is set for release on November 22. A Smash Bros. Ultimate cameo could build hype around both games and boost sales for Nintendo and Bethesda alike.
2. A Monster Hunter Character
That 4chan Adeleine rumor also suggested that a character from fantasy RPG series Monster Hunter would be joining the Smash Bros. Ultimate roster.
They said the fighter will come with both male and female skin options. This same anonymous poster correctly guessed all of the alternative skins for The Hero in their original post, but later revealed that those details were merely lucky guesses.
The Monster Hunter franchise is owned by Capcom, a company that's collaborated with Nintendo for years and already has three of its characters in the Smash Bros. Ultimate (Mega Man, Ryu, and Ken). So a Monster Hunter addition seems totally plausible.
1. Frisk From Undertail
Finally, a 4chan rumor spotted in early August has made the spiciest claim of them all. The anonymous poster said that Frisk the protagonist of Undertale, American indie developer Toby Fox, would be the next DLC fighter in line.
They gave a rough timeline and said that Banjo is around "80 percent complete" and could be released in early-to-mid September, which would line up with Blakebeats182's Direct predictions. The post also stated that Hero was finished a month before its release, but needed the whole month of June for balance tweaks, which makes sense given the character's immense amount of special abilities.
The addition of an indie game character would certainly be unprecedented, but Smash Bros. Ultimate Director Masahiro Sakurai has expressed his love for indie titles in the past.
All of the Smash Bros. Ultimate DLC fighters can be purchased with either the $24.99 Fighter Pass or individually for $5.99 upon their release.