'Smash Bros. Ultimate' update squashes hope for a rumored DLC character
Another one bites the dust.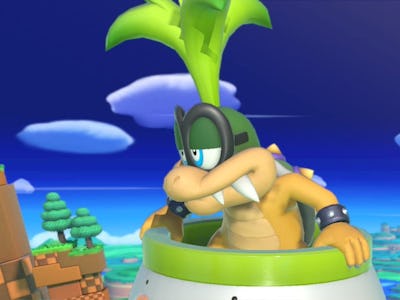 Nintendo
Super Smash Bros. Ultimate director Masahiro Sakurai recently confirmed that Nintendo is currently developing the final DLC character for its first Fighter Pass. But on Tuesday the games giant nixed any hope that a perviously rumored candidate won't make it into the title.
Nintendo of America tweeted that Smash Ultimate would add four Resident Evil Spirits on November 29. Spirits are a type of power-up in featured in Adventure Mode. The new additions include Chris Redfield, Leon S. Kennedy, Albert Wesker, and Jill Valentine. These are most of the central characters, so unless Nintendo is planning to add villains like Mr. X or Nemesis, it's looking bleak for Resident Evil fans.
There have been rumors Leon would join Smash Bros. since 2015, when Sakurai stated that Nintendo planned to add "one or two" more third-party characters to Smash Bros. for the Wii U and 3DS. That never came to pass, but rumors about about a Resident Evil DLC fighter resurfaced in October.
Fans of the survival-horror franchise were have had their fingers crossed for a Resident Evil representative in Smash Bros. Ultimate for months, but aNintendo leaker recently cast doubt on that speculation. Sabi, a games insider who accurately leaked a majority of the headlining press conferences at E3 2019, claimed that many of fans "front-runners" won't make the cut.
Nintendo essentially proved Leon isn't the next DLC character with its Tuesday announcement. The company has never teased any of its upcoming DLC characters with the release of Spirits. It allegedly teased the release of Banjo and Kazooie by showing off a custom-built stage that resembled Gruntilda from Banjo-Kazooie (1998).
The news was met with disappointment among Resident Evil fans on Reddit. Resident Evil 4 (2005) was a GameCube exclusive that garnered rave reviews and is considered one of the best-ever games for the platform. Smash Bros. Ultimate will soon receive a hat tip to the series, though it's clearly not what longtime fans were hoping for.
The fifth DLC fighter remains a mystery, but Nintendo might reveal who will be added to the roster next during the December 12 Game Awards. Smash Bros. Ultimate is nominated for Game of the Year, so Nintendo could use the spotlight to create even more hype around its fighting title.
The Super Smash Bros. Ultimate DLC fighters can be purchased with either the $24.99 Fighter Pass or individually for $5.99 upon their release.