'Doctor Sleep': Get your Ewan McGregor fix by streaming 3 of his best films
These Ewan McGregor movies are streaming right now, and they are all solid AF.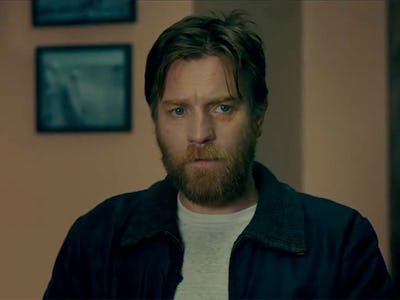 Warner
This weekend, Ewan McGregor stars in Doctor Sleep, the feature film adaptation of Stephen King's written sequel to The Shining. Meanwhile, next week, the streaming service Disney+ launches, where you'll be able to see him in all three Star Wars prequels. McGregor also signed-up for an Obi-Wan Kenobi Disney+ show currently in development, and he's playing the big bad in Birds of Prey, due out next year.
Clearly, the Ewan McGregor Renaissance is upon us, so there's no better time to stream some of his greatest hits on the various streaming platforms out there.
Here are three great movies to watch right now that should give you a sense of the range this Star Wars actor is capable of.
3. Trainspotting
This is the movie that arguably made McGregor what he is today. As Renton, he plays a heroin addict struggling to get clean. Also starring Jonny Lee Miller and directed by Danny Boyle (who also directed Yesterday, a much more recent film), Trainspotting is based on the novel of the same name by Irvine Welsh. Renton tries to escape a rugged life of drugs and crime, but his unreliable friends keep dragging him back in.
Trainspotting defined the '90s, and the soundtrack totally slaps. Even better: It still holds up 23 years later.
Big Fish
In between a few Star Wars, Ewan McGregor did this excellent Tim Burton movie (really!) about a man struggling with the elaborate fantasy world created by his father. Danny Devito also plays a werewolf, so it's pretty much a perfect film.
McGregor plays the younger version of the man, going on dreamy and fantastical adventures that feel larger than life. Were the fantasy elements real all along? Or were they all just another series of big fish tales?
Christopher Robin
Okay, okay. So this is a sappy Disney movie about a grown-up Christopher Robin dealing with being a depressed, overworked father, BUT did you know Peter Capaldi voices Rabbit? Were you aware Mark Gatiss (Sherlock, Doctor Who) plays Ewan's evil boss? And Hayley Atwell (Agent Cater herself!) plays Christopher Robin's wife?
This movie is great for geeks and even better if you are a human being with a heart. Best scene? Where Eeyore describes the humiliation he sees everywhere.
— Watch Christopher Robin streaming on Netflix right now.