Is Apple TV+ worth it? What to expect from the new streaming service
Everything you need to know about the new shows available at launch.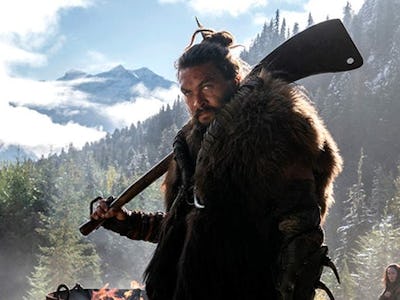 Apple has entered into the arena of battling streaming services as of November 1, beating the likes of Disney+, HBO Max, and Peacock to market.
But is Apple TV+ worth your time and money? The short answer is that if you like prestige TV, you should give it a shot — though you may not have a choice in the matter.
That's because anyone who buys a new Apple device — including iPhone, iPad, Apple TV, Mac or iPod touch — gets a free year of the service, so Apple will force you into testing Apple TV+ the next time you upgrade your Apple phone, tablet, or computer. That means the service has a year to prove itself to everyone to warrant the $4.99 monthly price tag, which is a good thing since the launch lineup is a little lackluster.
Does a drama about a morning news show starring Jennifer Aniston and Reese Witherspoon with a serious Steve Carell convince you? What about blind Aquaman? Horny Emily Dickinson? Intrigued? Read on to learn more.
I'm Corey and this is Multiverse, your twice-weekly guide to the world of geek pop culture. This week, we're weighing whether or not Apple's new streaming service will tip the scales or not.
This is a recreation of Inverse's Multiverse newsletter distributed October 31. Subscribe for free to get the most important entertainment news delivered to your inbox twice a week.
Question: Are you going to get an Apple TV+ subscription? You might change your answer after you read the rest of this newsletter, but weigh in in this Twitter poll or email me directly at corey@inverse.com.
The ABCs of Apple TV+
Unlike long-standing streaming services Netflix or Hulu, Apple TV+ has a very limited selection of premium exclusive titles, and it doesn't license a slew of other shows and movies to beef up its library. (That accounts for the fire sale $4.99 monthly cost.) Only a handful of shows will be available initially. However, one thing that Apple TV+ does do very well is aggregate almost every other streaming service into one place. Your Amazon Prime Video, Hulu, and ESPN+ are all browsable through Apple TV+, and you can even add individual channels like HBO, Starz, Showtime.
Apple TV+ will filter all of the shows across various services and present them all in one place. Even just that feature makes Apple TV+ feel like a no-brainer for anyone who has a device that supports it. The big caveat is that Apple TV+ will not be available on video game systems like PlayStation 4 or Xbox One, but it will be available on various smart TVs, Roku, and Amazon Fire devices.
The following four shows are just the beginning of the unique programming Apple TV+ has to offer, but there are a slew of other shows and movies in the pipeline, including a weird musical reimagining of A Christmas Carol starring Will Ferrell and Ryan Reynolds.
The Morning Show
The highest-profile series among the Apple's starting lineup, The Morning Show stars Reese Witherspoon, Jennifer Aniston, Steve Carell as anchors of Morning news show. Apple writes The Morning Show explores "cutthroat world of morning news and the lives of the people who help America wake up in the morning." The series focuses on Aniston and Witherspoons characters as they navigate this competitive world.
In Variety's review, they call the series a "muddled" attempt at storytelling, but TV Insider calls Jennifer Anniston the "shining apple in this glossy drama." For fans of The Newsroom, this might be the next best thing.
See is a "thrilling, fully realized dystopian drama" with blind Aquaman
Aquaman actor Jason Momoa, who first gained fame as Khal Drogo on Game of Thrones, stars in See, a post-apocalyptic drama from Peaky Blinders creator Steven Knight.
Centuries after a virus wiped out most of humanity, the only survivors lost their vision and struggle for survival in a society that has regressed into barbarism. Jason Momoa's Baba Voss is the father of twins born with the mythic ability to see, and he has to protect his tribe against a powerful, desperate queen who wants the twins destroyed. For Inverse, Allie Gemmell called it "thrilling" and "fully realized." Read our review.
Dickinson
A surrealistic twist on the real-life story of renowned poet Emily Dickinson, Apple's Dickinson stars Hailee Steinfeld as the protagonist who defies the constraints of society, gender, and family in the 19th century through a half-hour comedy procedural.
Vanity Fair called the series "fresh, bold, and charming," arguing that it's essentially made for Gen Z, bringing an iconic poet from the past into a modern era with panache and wit.
For All Mankind
Ronald D. Moore — creator of the Battlestar Galactica remake and Outlander — explores a "what if" take on history that details the lives of astronauts, engineers, and their families in a world where the space race never ended. The American space program remained a cultural focal point for American ingenuity and inspiration.
In a review from The Hollywood Reporter, Tim Goodman calls the series a "solid effort at epic, alternate-history storytelling," but adds that it "feels a bit derivative and moves too slowly." For Inverse, Allie Gemmill writes that the series "struggles to lift off," exploring how bruised male egos can cause problems for everyone involved. Read our review.
If you're sold on Apple TV+, what do you do?
A year's subscription to Apple TV+ will cost you just shy of $60 just for the service, so there's never been a better time to just go ahead and splurge on an Apple TV device, which will cost you less than three times as much and get you a year free.
Apple TV+ is now available.