'See' review: Apple serves up a thrilling, fully realized dystopian drama
And it doesn't hurt that there's plenty of Jason Momoa either.
by Allie Gemmill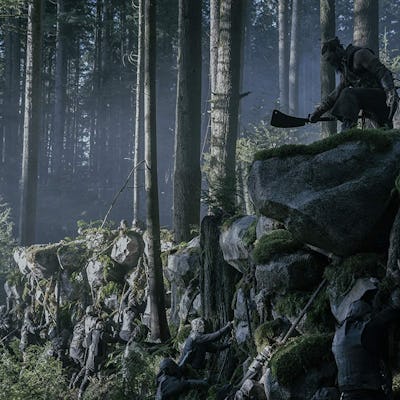 Apple
Apple TV+ launches this Friday with a wide variety of glossy shows featuring huge stars and giant budgets. But for fantasy fans, there's only one series worth your attention, and it features one of the biggest fantasy stars in recent memory: Jason Mamoa. That's probably a big enough sell for some people, but thankfully, See has a lot more too offer, even if it's premise of a future where a virus destroys most of society and leaves the survivors blind sometimes verges into problematic territory.
Among the first batch of original programs for the nascent Apple TV+ streaming platform, See stars Momoa, Alfre Woodard, Hera Hilmar (Mortal Engines), and Sylvia Hoeks (Blade Runner 2049). The series takes big swings with its story and the world where it takes place. Fortunately, those big swings land magnificently and make for one of the most exciting Apple TV+ offerings.
From the mind of Peaky Blinders scribe Steven Knight and the first three episodes directed by I Am Legend and The Hunger Games: Catching Fire's Francis Lawrence, See offers up a well thought-out, intriguing post-apocalyptic drama with some unique twists. The series begins centuries after a virus killed a majority of the global population. Those who survived lost their eyesight, and future generations were condemned to the same loss of sight at well. When the show opens, we also learn the world's population is now less than two million.
At the center of See is hulking warrior Baba Voss.
At the center of See is hulking warrior Baba Voss (Momoa, channeling the same energy reserves he ostensibly drew on for Khal Drogo), one of a small tribe living in what looks like the wilds of Canada or perhaps the Pacific Northwest. His partner, Maghra (Hilmar), is first seen in the pilot giving birth to twins whose father is not Baba Voss but a traveling prophet named Jerlamarel (Joshua Henry) being hunted for preaching about sight and the lifeline if could offer humanity — a big no-no in this post-apocalyptic world.
When it's discovered that Maghra's children are of interest to a witchfinder named Tamacti Jun (Christian Carmargo in a scene-stealer of a performance), whose job it is to suss out heretics preaching about the possibilities that come with sight and whose prime target is Jerlamarel and associates, Baba Voss convinces his community to flee together and find a new home. Add to this a key twist that the twins have their sight and See is suddenly off to the races in a very fun, if slightly convoluted, way.
After centuries of work rebuilding society without sight, See takes place in a rustic, tribal landscape where the ghosts of a once-advanced society hovering in the shadows. In this respect, See's set design is a marvel to look at that also helps fill in some storytelling gaps and saves us from wonky exposition. Deft touches like the prevalence and regular use of plastic bottles (a genius reminder this particular environmental hazard that takes hundreds of years to degrade and is actually still useful), turntables, old wiring, and old jungle gyms covered in flora and fauna exist alongside villages of wooden huts and thatched roofs with pelt-wearing inhabitants.
The attention to detail continues, with the costume and set design reflecting the ways in which blind humans had to make up for their lost sense. Clothing, weapons, jewelry, and even protections around villages include accoutrements that make noise or come accompanied with guide ropes. Even subtle touches like messages not being written but rather sent in the form of ropes tied with specifically-place knots show an attention to detail that adds believability and weight. All of these choices feel like the natural results of a society returned to a pre-industrial state and forced to innovate without their sight.
Turning differently-abled people into near-magical ones is a tough line to toe.
What's key with See is not just the world-building, but the performances. This is a show that depends on a strong cast to show up and sell viewers on the premise. Momoa is arguably playing a version of himself who, in real life, is every bit the modern-day leader-warrior with a heart of gold ready to square up at the drop of a hat.
Hilmar and Woodard also shine in their roles, with Hilmar especially thriving as she turns in a tender but fierce performance. But the real MVP of See is arguably Hoeks as Queen Kane, a borderline megalomaniacal monarch (of what is anyone's guess…humanity? The region?) who is hellbent on maintaining control. Hoeks goes as far as possible in playing Queen Kane big without veering into camp, adding some much-needed zest to See.
But for all of the innovative ways See illustrates how humanity re-stabilized generations after a virus changed the world, there are some problem spots in sight. The show posits that, in the absence of sight, humans have developed almost superhuman abilities with their other senses, but especially with their hearing. In an otherwise compelling and gritty battle sequence in the premiere episode, Baba Voss asks for updates on the enemies' movements and emotions, which two soldiers can, respectively, detect with their other senses even though its implied they're hundreds of feet away.
It's an odd, slightly problematic narrative turn to conflate the loss of sight with the evolution of almost superhuman abilities. Turning differently-abled people into near-magical ones is a tough line to toe, especially when the cast is largely made up of actors who are, in reality, able to see. The series will have to walk a serious tightrope if it continues to weave this element into the story.
See is definitely one of the strongest new shows from Apple TV+ with its well-drawn world and engaging story set in a post-apocalyptic world. With See, Apple TV+ has a vital sci-fi-meets-fantasy property on its hands that it can continue to develop thanks to its early Season 2 renewal. All things considered, this is one show that is well worth your time.
See debuts with its first three episodes on Apple TV+ on Friday, November 1. Episodes will be released weekly.