11 Shows and Movies that Make NBC's Peacock the Comfort Food of Streaming 
Should Netflix be worried?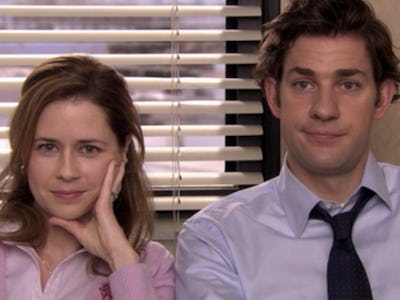 NBC
Peacock is here. Peacock is love. Peacock is life. While there are maybe some fair arguments that they could have gone with a better name ("NBC UNIVERSE" WAS RIGHT THERE!), the NBC Universal made its streaming plans clear by revealing Peacock, its official streaming service, after a significant period of speculation and rumors.
The platform will stream classic NBC shows as well as movie from Universal, DreamWorks, Focus Features and more. That's in addition to original programming which is already confirmed to include reboots of Battlestar Galactica, Punky Brewster, and Saved by the Bell (yes, seriously).
Make no mistake though, right now the archive is the draw. Between taking Friends and The Office back from Netflix and installing a full roster of classic sitcoms like Parks & Rec and Frasier, Peacock and its April 2020 debut are already a force to be reckoned with as the Streaming Wars inch closer and closer.
With such a dense lineup, it feels like Peacock may already be the ultimate "comfort food" streaming service, the one people will flock to for familiar, easily-watchable programming that can be enjoyed with little effort. (Anyone who goes to bed each night rewatching The Office is going to seriously consider Peacock when it launches next year.)
Not convinced? Here are TK shows and movies that will make Peacock your go-to comfort food streaming service.
11. Jaws
Okay, maybe a movie about a killer shark terrorizing a beach isn't the most comforting subject matter. Still, Jaws is one of the most beloved movies of all time and effortlessly rewatchable. If that doesn't make for good comfort viewing then what does?
10. Parks & Recreation
The upbeat younger sibling of The Office, Parks & Rec has long been a go-to on Netflix and boasts a nearly perfect 7-season run. It's infinitely quotable, optimistic, and full of memorable characters and cameos from comedy and Hollywood titans. It'll sit well alongside The Office and Friends on Peacock.
9. Back to the Future
Easily one of the most rewatchable movies of all time, Peacock will feature the whole trilogy, but it's the first installment that makes for the easiest standout. Being able to see Doc and Marty get into 1950s shenanigans whenever you want is a real draw for the service.
8. Saturday Night Live
There's something relaxing about putting on an old episode of SNL and, as it turns out, Peacock subscribers will have access to the entire catalogue. That'll be a great long-term binging project if you've been looking for a new one.
7. The entire The Fast & The Furious franchise
The Family has come to Peacock. The streaming service will feature the entire Fast & Furious franchise, from the humble DVD-player-smuggling origins to the missile-tossing bombast of The Fate of the Furious. Ride or die, Peacock subscribers. Ride or die.
6. Brooklyn Nine-Nine
The cult sitcom was rescued from cancellation by Fox thanks to NBC after its fifth season and the company made the most of it, putting together a stellar sixth season and planning to add the full run to Peacock. A cop comedy about a bunch of nice beautiful idiots who want to do the right thing, it's the definition of an easy watch and is sure to reach an entire new generation of fans thanks to its availability on the streaming service.
5. The Breakfast Club
Easily the best high school movie ever made, and the standout of the brilliant John Hughes' filmography, The Breakfast Club has a new streaming home on Peacock. It's a timeless movie that will now be available to soothe your nerves at the end of long days — or to show to the younger folks in your life for the first time.
4. Downton Abbey
Let's face it: rich, attractive British people wearing nice clothes in a pretty mansion and saying things like, "Oh bother, somebody go and put the tea on," is pretty great comfort food television, and no show has featured as much of that as Downton Abbey. The full series run will be a part of the archives on Peacock.
3. The Office
You already know the deal. It's one of the most watchable comedies of all time and statistically one of the most popular streaming shows in the world. The Office originally aired on NBC and the network is bringing it back into the fold. If you want to hang out with Michael, Pam, Dwight, and Jim, you'll have to sign up for Peacock.
2. E.T: The Extra Terrestrial
The ultimate Spielberg comfort film, E.T hasn't aged a day since its release. Featuring a heartwarming story, stunning visual effects, and some of the most memorable music of all time, it's an all-time sci-fi classic that Peacock viewers will get to revisit whenever they want. (Let's just hope NBC doesn't make us rewatch the dreaded walkie-talkie edit.
1. Friends
There's perhaps no single TV show that has caused as much drama in the streaming world over the last few years but any speculations or concerns are finally being put to rest: Friends, one of the most-streamed shows in the world, is going to be available exclusively on Peacock.
Peacock launches in 2020. There is still no set release date or price.