'Spider-Man 3' release date announced as Sony-Marvel overcome dispute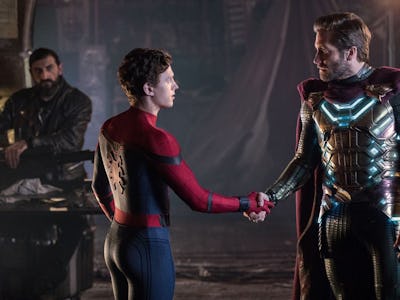 Marvel Studios
Tom Holland's Peter Parker will officially be swinging back into the Marvel Cinematic Universe for at least two more adventures as Spider-Man, ostensibly completing the trilogy started by Spider-Man: Homecoming and another Marvel Studios project. Marvel-Sony even announced an official release date for the next Spider-Man movie: July 16, 2021.
Deadline reported the news Friday morning, which essentially means that the August breakup that removed Spidey from the MCU has been undone. Disney and Sony have reconciled their differences and restored the complicated deal that loans the character out to the MCU, presumably thanks to a new deal about the profit sharing. This also probably means that Spider-Man might not join characters like Venom in Sony's other Marvel Comics movies.
"I am thrilled that Spidey's journey in the MCU will continue, and I and all of us at Marvel Studios are very excited that we get to keep working on it," Marvel Studios President Kevin Feige said in a statement. He went on to clarify that this might not be the end of the Disney-Sony partnership either. "As Sony continues to develop their own Spidey-verse you never know what surprises the future might hold," Feige said, implying that as Marvel's Phase Four and Phase Five progress, new deals could be made to include Spider-Man for many years to come.
Under this new deal, Kevin Feige will once again exert his influence with the resources of Marvel Studios to co-produce the film alongside Sony's Amy Pascal. There's no official word on whether or not writer-director Jon Watts, who worked on both Spider-Man: Homecoming and Spider-Man: Far From Home, will return, but we have every reason to expect as much. That means the third Holland-led Spider-Man movie should have all the same cast and creatives from behind and in front of the camera.
Deadline also reports that an important part of the arrangement is that Spider-Man will also appear in a future Marvel Studios film. The character made his debut in Captain America: Civil War and played a significant role in both Avengers: Infinity War and Avengers: Endgame, so this part of the news probably means he'll be around for Avengers 5, whatever that may look like circa Phase Five.
Another more unlikely possibility is that Captain Marvel 2, also expected in Phase Five, will feature a team-up between Captain Marvel and Spider-Man.
Rumors began circulating earlier this week that a large part of the initial fallout between Disney and Sony was over Marvel Studios' vision for the Spider-Man character over the next few years involved Spidey playing second fiddle to Captain Marvel in an effort to make Carol Danvers more likable. We may never know for sure if that rumor was true, especially when most reports claimed that the initial Sony-Marvel dispute was entirely about money, but this new deal means that things are back on track for the Webslinger's future in the MCU.
A July 16, 2021 release date means Spider-Man 3 will release after Doctor Strange in the Multiverse of Madness, right around the same time as the Disney+ What If…? series, and before both the Hawkeye Disney+ series and Thor: Love and Thunder.
Spider-Man 3 has no official title yet, but it will be released July 16, 2021.