What the Spiderman-MCU-Disney agreement means for 'Avengers 5'
This could be huge for Marvel's Phase Four and beyond.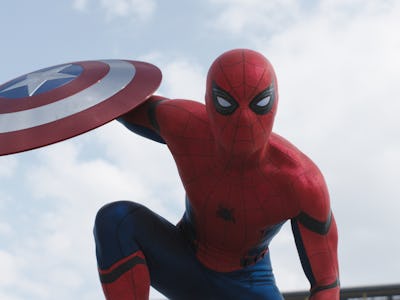 Marvel
Did you hear the news? Spider-Man is back in the Marvel Cinematic Universe! After a falling out between Sony and Disney that now feels more like a publicity stunt than an actual dispute, Tom Holland's version of Peter Parker will return to the MCU for a third solo movie and one other "future Marvel Studios film," according to an official statement (via Deadline).
So yes, Spider-Man 3 or Spider-Man: Home Fries or whatever Kevin Feige decides to call it is definitely happening and it will take place within the MCU. More importantly, we know that Spider-Man will also appear in at least one more Marvel movie. And if we're taking bets, it's gotta be Avengers 5.
To be fair, Avengers 5 doesn't have a release date. It's not part of Marvel's upcoming Phase Four slate announced at San Diego Comic-Con and hasn't even been teased as part of the more nebulous Phase Five (which appears to include Blade, Captain Marvel 2, Black Panther 2, Guardians of the Galaxy 3, and the introduction of the X-Men and Fantastic Four). Still, considering how Marvel left things in Spider-Mar: Far From Home with Spidey taking up the mantle of Avengers leader in Iron Man's absence, it seems likely that when Avengers 5 does happen, it will be Spider-Man leading the charge.
As we've noted before, Marvel's already done a good job seeding the next generation of Avengers, including Sam Wilson as the new Captain America, Jane Foster as Thor, and Captain Marvel. There's also Kate Bishop set to take over for Hawkeye and the upcoming Kamala Khan/Ms. Marvel series, which looks like the makings of a Young Avengers show or movie. Holland's Spider-Man could easily slot into either of those teams, though considering he's already a full-fledged Avenger, it's hard to imagine why he'd step down into a more junior role.
Of course, with Avengers 5 still years away, it's also possible Holland's next Marvel role after Spider-Man 3 could be in another superhero's movie. Captain Marvel 2 feels like the obvious choice, particularly after the Far From Home post-credits teased a connection with the Skrulls introduced in Carol Danvers' first outing. Thor: Love and Thunder is another possibility; the final movie in Marvel's Phase Four would be a good opportunity for an Avengers-level crossover event.
Either way, we're happy to hear that Spider-Man is firmly back in the MCU. We just hope he sticks around long enough to take on a leading role whenever Avengers 5 finally comes to theaters.
Spider-Man 3 swings into theaters on July 16, 2021. Avengers 5 is coming … eventually?