Musk Reads: Next-gen Tesla Model S gets a production date
Tesla Model S prototype beats the Porsche Taycan; Tesla's robo-taxi could find a receptive audience; and a next-gen vehicle gets a production date.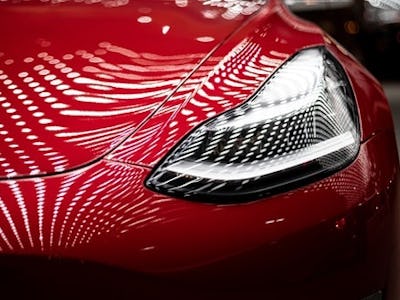 Tesla Model S prototype beats the Porsche Taycan; Tesla's robo-taxi could find a receptive audience; and a next-gen vehicle gets a production date. It's Musk Reads: Tesla Edition #105.
A version of this article appeared in the "Musk Reads" newsletter. Sign up for free here.
Musk quote of the week
"Joe Mode is the best mode."
Tesla
A super-fast, seven-seater Tesla Model S will enter production in October or November of 2020, Musk revealed Tuesday, with a "roomier" third row of rear-facing seats that can fit larger passengers. The "Plaid Powertrain," the next-generation powertrain set for this vehicle, is expected to reach the Model X and next-generation Roadster sometime after this date. A prototype vehicle using the new powertrain recorded a lap time of seven minutes and 23 seconds around the Nurburgring, 19 seconds faster than the Porsche Taycan. Musk claimed the production model would offer even faster speeds. The "Plaid" name is a reference to Spaceballs, and is designed to be the next step up from "Ludicrous" mode.
Tesla's robot taxi plan could be a major hit in Europe. Drivy, a Europe-based car sharing platform, surveyed 4,000 residents of eight major cities last month and found broad support for car sharing. Around 43 percent of Londoners would consider getting rid of their car entirely, while 84 percent claimed they wanted to see fewer cars on the road. Nearly 60 percent of Berlin residents said that a car is not necessary, while 46 percent of Parisians felt the same way. As Tesla looks to roll out full autonomous driving and switch on a smartphone-powered taxi fleet, the new car sharing economy could prove to be a receptive audience.
Tesla solar
Tesla has revised its solar pricing. California-based commercial buyers can now order solar through a new website. The simplified buying process offers standardized pricing and sizing, a similar benefit as seen with residential solar installs.
Vermont residential owners can also now rent solar systems at increased sizes of six kilowatt-hours for $76 per month, eight kilowatt-hours for $102 per month, and 12 kilowatt-hours for $153 per month. Buyers can add two Powerwall batteries for an extra $30 per month. The solar rental system is part of Tesla's goal to make switching to solar a no-brainer with an easy-to-understand pricing structure.
What's next for Tesla: Tesla's "Smart Summon" feature is set to enter early access this week for American owners. Musk explained that if the update "looks good," it could roll out worldwide as an early access feature the following week. The update enables better control over summoning and has previously been billed as a key feature of the 10th version of Tesla's software.
In other Musk news…
Musk paid an investigator $50,000 to look into Vernon Unsworth's private life, court documents filed Tuesday revealed. The lawsuit concerns comments Musk made about Unsworth last summer. During the mission to rescue 12 children and a football coach stuck in a cave, Musk started developing a submarine to rescue the kids. Unsworth, a British caver living in Thailand, described the submarine as a "PR stunt" that had "no chance of working." Musk referred to Unsworth as a "pedo guy," subsequently deleting the tweets later.
Musk hired James Howard to investigate Unsworth, who later told Musk that Unsworth had met his wife when she was around 12 years old. The investigator later revised this to 18 or 19 years old. Woranan Ratrawiphukkunand, Unsworth's wife, told The Mirror in September 2018 that she was 33 years old when they met.
Musk Reads mailroom
Mildred Heltzer writes:
My priority would be to receive messages and add voice commands. Enough games for awhile. Let's do something practical and helpful.
This message comes to us after last week's request for Waze support. Tesla vehicles already ship with a limited voice command system, which enables navigation, controlling music, and calling contacts. A further set of instructions uncovered by Electrek suggests the vehicle could eventually support other features like controlling the wipers and glovebox. Musk claimed last year that eventually "you will be able to do pretty much anything via voice command" — similar to the Lucid Air electric car — so expect this feature list to expand over time. Exactly when these features will roll out is unclear.
Greg Knill writes:
A nifty way to address some of the issues [with in-wheel motor systems] would be to use a hydraulic system similar to that used on proper Citroens (and later licenced to Rolls Royce). If you have ever been in a DS from the 60's or 70's you will really understand ride comfort.
Placing a motor inside the wheel could offer better responsiveness, but also make for a bumpier ride. Could a hydraulic system provide the answer? Perhaps the best person to ask would be the owner of the modded Tesla in this video.
Considering how Tesla only upgraded its air suspension system in May to offer fully adaptive damping, the company may be unlikely to make any big changes soon.
Got any comments or queries? Don't forget to send them over to muskreads@inverse.com.
Photo of the Week
Supercharger at Nürburgring.
The Elonporium
Subscribe to Inverse Loot and learn about these deals first.
The ultra-fine print
This has been Musk Reads: Tesla Edition #105, the weekly rundown of essential reading about futurist and entrepreneur Elon Musk. I'm Mike Brown, an innovation journalist for Inverse.
A version of this article appeared in the "Musk Reads" newsletter. Sign up for free here.