iPhone 11 Event: 7 Things Apple Didn't Announce on Tuesday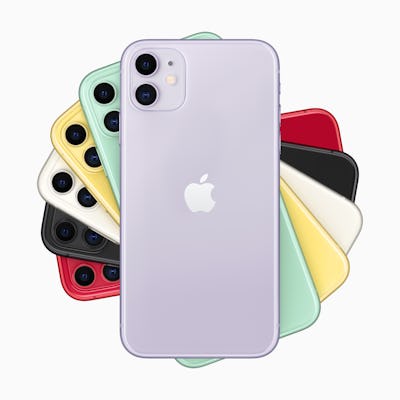 Apple
Apple unveiled its latest iPhone lineup Tuesday, bringing even faster processors and even better cameras to one of the most popular smartphone brands in the world. But amid the new watches (a bright Apple Watch Series 5), software updates and service announcements (the formidable Apple TV+), some fans may have felt there was something missing.
It had all the hallmarks fans have come to expect from an iPhone event, as the product line enters its 13th year. There was talk of gorgeous new cameras, backed by an ultra wide-angle lens that fits more people in the photo. The A13 Bionic chip offers 20 percent faster performance than its predecessor, ranking as the fastest CPU and GPU in the smartphone world. The iPhone 11 offers one hour more battery life than its predecessor the iPhone XR, while the iPhone 11 Pro and iPhone 11 Pro Max offer four hours more battery life than the iPhone XS and iPhone XS Max.
On the Apple Watch side, the new Series 5 offers an always-on display for the first time as well as a compass. The entry-level iPad got a slight screen size increase to 10.2 inches. iOS 13, macOS Catalina and watchOS 6 all got release dates. Apple TV+ and Apple Arcade both got $4.99-per-month price tags. There was a bit of something for everyone.
But, some heavily-rumored features didn't make the cut. There w no sign of new AirPods, no new Tile-styled trackers, and fans waiting for a more resilient MacBook keyboard may have to hold off before buying a new laptop.
Here were some of the biggest disappointments.
Where Was the Reversible Wireless Charging?
Ahead of the event, rumors suggested Apple was going to introduce bidrectional wireless charging. This would have enabled users to flip their iPhone over and use the coil on the back to charge their AirPods or other Qi-enabled devices. A similar feature is available on the Samsung Galaxy S10 range
Unfortunately, the feature didn't seem to make this year's phone. Apple analyst Ming-Chi Kuo briefed hours before the event that the feature did not live up to Apple's standards during testing. Ah well.
We Couldn't Find a Tile Tracker
Apple was expected to unveil an object tracker, similar to the Tile tags that help users locate their keys and other household items. Prior rumors detailed how floating balloons in augmented reality could help users locate their lost trinkets, chasing the virtualized graphics around the room to get your day back on track like some sort of fever dream.
It wasn't to be. Apple made no mention of the trackers, although the new iPhone 11 packs a U1 chip for handling ultra-wideband signals. These signals could prove useful for a future tile tracker, so all hope is not lost perhaps?
We Didn't Hear Any AirPods Updates
No love for the AirPods? Apple's popular earphones have rapidly become a common sight on public transport, leading the New York MTA to consider putting out a public safety announcement about losing AirPods. But while the second-generation brought some welcome changes like Bluetooth 5, hands-free Siri and wireless charging in March, rumors suggest something new is on the way.
A July report suggested that a new "AirPods 3" would support waterproofing and a new sports design. Although the iPhone got some slight improvements to its waterproofing, the AirPods didn't receive the same love. For now, users will either have to stay away from large bodies of water or take them off for a few minutes.
No 16-Inch MacBook
Apple is expected at some point to introduce a new design for the MacBook, one that could fix the major issues surrounding its butterfly keyboard design. As professionals wait for a modern portable Mac that can still type after being exposed to dust, rumors have swirled about a 16-inch laptop that would offer a similar form factor to the 15-inch model.
Although IHS Markit analyst Jeff Lin predicted a September launch, it seems unlikely now considering how the company's efforts for the rest of the month will be focused on the iPhone and Apple Watch. Laptop buyers will have to wait a bit longer.
An Actual Apple TV
Apple's set-top box was rumored to get an update ahead of the event. Twitter account "never_released" claimed the company would include an A12 chip in the newer device, improving on the A10 chip used in the Apple TV 4K. While this could have been a welcome boost with the imminent launch of Apple Arcade, it seems the company decided to skip making any updates at this event. One for a future launch?
No HomePod
HomePod, Apple's answer to the smart speaker, isn't all that smart. The Siri voice assistant pales in comparison to Google Assistant, the speaker itself doesn't support Bluetooth or wired audio connections, and at $299 it's one of the more expensive offerings on the market.
With the likes of Google Home Mini and Amazon Echo Dot snapping away at the low end, the prospect of a cheaper HomePod has surfaced. The speaker didn't get any mentions at the event, but considering the speaker has more issues than price, maybe Apple is waiting for a better time.
Please, Give Us a Video Game Controller
Apple was not expected to release a video game controller, but it would have made a lot of sense. Apple Arcade, the $4.99-per-month game service, offers more than 100 exclusive games across devices like the iPhone, iPad, Apple TV and Mac. Three of them support Apple's standardized controller layout, rolled out with iOS 7 in 2013.
Since then, Apple has largely left it to third parties to fill in the gaps, barring a semi-collaboration with SteelSeries on the Nimbus controller that uses the Lightning cable to charge. But Apple's branding doesn't appear on the device, it's not bundled with the Apple TV or any other offering, and it doesn't support the clicky thumbsticks in more recent iterations of the spec.
When Google unveiled its Stadia streaming service, it included a controller as part of a Chromecast bundle. That attracted other video game players, familiar with buying a console and receiving controllers. Why can't Apple do the same?
More stories from the September 2019 Apple event:
iPhone:
Apple Watch:
Apple Entertainment:
Tech Culture: