New AirPods 2019: Price, Release Date, and Features for the New Earbud Duo 
AirPods fans aren't ready.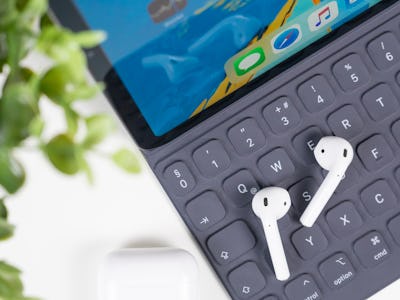 Unsplash / Daniel Korpai
Apple might have even more AirPods releases on deck for 2019. The company already issued a marginal update to its famed wireless earbuds, which included a new wireless charging case, a handful of spec improvements, and hand-free Siri support.
But while these features were all long-desired, the recent AirPods release was still dubbed a "half-update" by fans. Fortunately, it looks like a more substantive overhaul is still on track for a 2019 release. This is according to two fairly reliable sources: the latest analyst note from Apple soothsayer Ming-Chi Kuo (obtained by 9to5Mac) and a report by DigiTimes, both published on Wednesday, and both of which claim that two new AirPods models are on the way.
They're still going by the unofficial moniker "AirPods 2," and the first release will look very familiar to the earbuds Apple currently offers, aside from one key change. But the other pair of earbuds may introduce an all-new design that previous Apple patents and reports have alluded to.
This year could see a complete overhaul to one of Apple's most popular wearables. Here's what to expect.
AirPods 3: Release Date
Both the Kuo note and the DigiTimes report suggest that consumers should expect the two new AirPods to launch as early as the end of 2019. Kuo gave a little more leeway to the release and predicted a "4Q19 - 1Q20" timeframe. But even with these slight differences, it's significant that both reports have coalesced around the same date.
Interestingly, the two forecasts came hours apart from each other and they both cite anonymous sources in Apple's Asian Pacific supply chain. It seems unlikely that Kuo and DigiTimes spoke to the same industry source, seeing as Apple does business with hundreds of manufacturers and firms in China, Taiwan, Japan, and Korea.
The fact that both predictions suggest many suppliers are hearing the same things adds to the claims' legitimacy.
AirPods 3: Price
The only mention of price came from Kuo, who said he expects a marginal upgrade that maintains the current AirPods price point, and a more heavily redesigned version that will sell for a "higher price."
His statement is still a little confusing. As 9to5Mac notes, it was unclear whether Kuo was talking about the $159 base price for the AirPods or the $199 bundle that includes the new wireless charging case. The publication suggests that the upgraded and redesigned models might be priced at $159 and $199, respectively.
AirPods 3: Features
DigiTimes reports that all of the new AirPods released this year will come with a noise-cancellation function. This would enable users to mute outside noise and get more fully immersed in the music, podcast, or audio book they are listening to.
Noise cancellation has often been reported as an upcoming AirPods feature ever since a 2018 Bloomberg report. DigiTimes states that Apple will introduce noise cancelling to continue its dominance of the multibillion dollar wireless earbud market.
Recently, Samsung, Amazon, and other tech brands have all released or announced plans to release AirPods competitors. A unique sound quality feature could serve to differentiate them in an increasingly crowded industry. But they could run into some technical difficulties depending on what kind of noise control Apple opts for.
Active noise cancellation dampens outside sound by mirroring outside ambient noise using internal circuitry, which means it requires extra power to pull off. That could cut into the second-generation AirPods' five hours of listening time per charge.
Alternatively, Apple might choose to implement passive noise cancellation, which doesn't consume any extra energy but can block outside sound by insulating users' ears from external noise. The only drawback is that it simply doesn't block as much noise as active noise cancellation.
It's unclear if both or just one of the new AirPods will gain noise cancellation, but the Apple's buds would require a design overhaul to implement either method. That suggests that sound canceling will be the selling point for the more expensive, redesigned model.
AirPods 3: New Design
It's unclear how the redesigned AirPods will look, but there have been various patents and reports suggesting they will be over ear to facilitate noise cancellation. This feature was first reported by Bloomberg in 2018 and could finally make it to the buds.
A redesign like the one depicted in the filing would completely overhaul the AirPods, possibly at the risk of alienating consumers who have become used to them. However, this could be a way for Apple to finally leverage the sound isolation technology it bought as part of its $3 billion acquisition of luxury audio company Beats Music and Beats Electronics.
Big changes are coming to Apple's line of earbuds, and it could prove to be a successful strategy to keep consumers enthralled in the product. Company SVP Luca Maestri said that Apple's wearables business is already "approaching the size of a Fortune 200 company" during a January earnings call.
New models with clearly defined features and price points could be what the company needs to get their buds into the ears of not just Apple fans, but also audiophiles and other people with more serious listening needs.