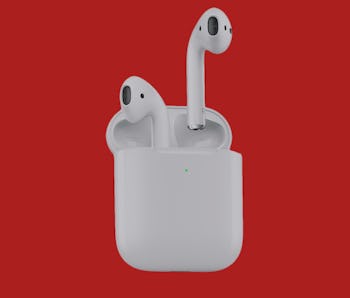 Innovation
New AirPods 2019: Why Apple Enthusiasts Are Calling Them a "Half-Upgrade"
"This ain't it chief," commented one Apple enthusiast.
Apple
Second-generation AirPods have finally arrived. Tech enthusiasts had long been itching for an upgrade, and rumors detailing AirPods 2019 refresh have built steadily for at least a year. But when Apple's new pair wound up excluding some longed-for improvements, the internet dubbed the product a "half upgrade."
Second-generation [AirPods]have finally arrived, roughly two years since after their original release. Tech enthusiasts had long been itching for an upgrade, and rumors detailing their [2019 refresh] have built steadily for at least a year. But when Apple's new pair wound up excluding many of the most longed-for upgrades, the internet quickly dubbed the product as more of a "half upgrade." Within the Apple forums, the online response was resoundingly meh.
Here's what's actually new: As expected, the AirPods received a new wireless charging case, as well as three under-the-hood improvements in the form of better battery life, improved connectivity, and hands-free "Hey, Siri" support. There was also a pleasant surprise regarding the price. Rather than making the units more expensive, the new AirPods will still start at $159, and bundled with the case they're $199.
Buying the case separately will run customers $79. At the surface, not such a bad deal, but the Apple subreddit found these improvements so lackluster that a few users even canceled their orders after they got over the initial excitement of the launch.
One of the main gripes is that, after two whole years, the essential Airpods design appeared too untouched. But a majority of the disappointment stemmed from the choice of improvements, which left some AirPods power-fans feeling ignored. One of the biggest reported issues with the AirPods is sound leakage and audio quality and it looks like Apple glossed right over them.
User u/jojek locked in an order as soon as they heard about Apple's surprise release. But after wading into the details of the half-update, they said they quickly asked for their money back and took to Reddit to voice their complaints.
"No change in audio quality, slightly elongated battery life, which is already good- Different chip which doesn't mean anything," they wrote. "Siri which can be activated either by double tap or raising hand with my watch. Wireless charging for extra 40 pounds - I know how to plug a cable. Same white glossy color. Order cancelled."
Redditor u/Cassiuz rattled off their wishlist of unaddressed shortcomings, most of which involved problems with the sound quality and background noise. They had good reason to be disappointed: Both of those features were rumored by trusted analysts in the past.
In particular, the reporter Mark Gurman, who has a reputation for being particularly well-sourced in Apple, predicted that an over-ear version of the AirPods with noise-cancellation capabilities would arrive in 2019. With this lackluster launch already behind us, it looks like fans holding out for those AirPods will have to wait another year.
"I was hoping for a bit more of a design change/actual spec update," they said. "Improved sound quality, noise isolation, active noise cancellation, different ear design, other color options, additional sensors/health monitoring features."
A much more dramatic overhaul of the AirPods is now expected in 2020, according to veteran Apple analyst Ming-Chi Kuo a prediction that's been upheld by subsequent reports. This next upgrade is supposed to transform the headset into something more like the Apple Watch to appeal to the consumer health market.
Until then, many Apple diehards with aging AirPods, like Redditor u/PalmHacks will be on the hunt for bargains on the original earbuds to avoid having to pay the full $159 again.
"Maybe I'll be able to find a reduced price gen 1 set to hold off until they come out with something actually new because this ain't it chief," they write.
Even with the lackluster reception, these new AirPods remain a likely hit. As several have pointed out, users who bought their AirPods two years ago are likely to be experiencing some battery degradation by now. In January, 9to5Mac wrote that the AirPods were "showing their age."
In March, *AppleInsider ran a test, and estimated that people who bought AirPods in 2016 would be experiencing charges that last "half the time" as when they first bought them.